The Shack - November 2010

7.30pm, Saturday 6th November 2010
By Kathleen Swadling
Posted Monday, July 5, 2010
The Tramshed
1395a Pittwater Road
Narrabeen
(In between the Ambulance Station and Car Park of Narrabeen Shopping Centre)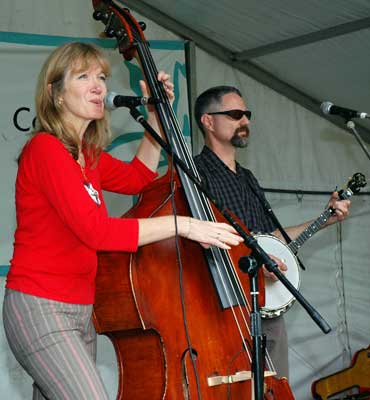 Guest artists this month include:
Ann & Paul - Ann & Paul are members of urban eXcentircs/Tangocentric and RAPT and also work as musicians in their own right. Paul has recently being seen doing such diverse projects as playing double bass with the Melbourne Symphony and opera and banjo with various orchestras as well as playing popsongs for a lipstick promotion. Ann is a multi-instrumentalist, songwriter and singer and has been doing a good deal of session work on recordings and live shows as well as building on the momentum surrounding RAPT – which includes Rose MacDonald and Tony Pyrzakowski from Mothers of Intention. Ann & Paul have also been judges of different categories of the Australian Songwriting Awards for the last 5 years. At the Shack, you will see them presenting a selection of original material, old and new as well as some of their more familiar repertoire drawn from folk and their own cultural backgrounds.
Brian Campeau - Celebrated for his powerful voice, unique instrumentation, unusual arrangements and organic, left field production, Brian Campeau is no regular singer songwriter. He's trying something a little different, and succeeding brilliantly at it. Campeau's new album, "Mostly Winter Sometimes Spring", sees him take a new approach to song writing, while continuing to make the most of his gift for melody and mood. Imagine melodicas being hit, cellos plucked, harmoniums thrown and glockenspiels 'strummed': deliberate misuse of the instruments in a bid to express Campeau's experiences over the last two years. Approaching his instruments in this way allows Campeau to create an almost orchestral sound, despite the fact that he's only using them one at a time.
Dan Hopkins and the Generous Few - Dan Hopkins and the Generous Few comprises the versatile talents of Dan's evocative song writing ability and dynamic guitar playing mixed with a folk and rootsy blend of sounds that create a real ethereal and earthy package. Contributed to by Corey Sellwood's intuitive bass and Oliver Savvy's earthy congas, Dan's has recorded the E.P Golden Girl and has been compared vocally to Cat Stevens, has the soul of Ben Harper and creates a vibe reminiscent to that of the John Butler Trio. The songs often resonate from a place deep down but nothing short of a very entertaining delivery is what you can expect from the Dan Hopkins and the Generous Few.
Coffee and tea is available but BYO refreshments and nibblies.
The Shack is held on the first Saturday of every month. There's a cover charge of $15 (or $10 for members, students and pensioners) to cover costs. The Shack is a non profit organisation – all proceeds go toward the promotion and presentation of original, contemporary and traditional 21st century folk music.