The Shack - May '13

7.30pm, Saturday 4th May 2013
By Roxana Jarolimek
Posted Tuesday, February 5, 2013
The Tramshed
1395a Pittwater Road
Narrabeen
(In between the Ambulance Station and Car Park of Narrabeen Shopping Centre)
The Shack presents a remarkable line up of live acoustic music, with a variety of artists on the first Saturday of each month. It is pleasantly laid out cabaret style in a candle lit atmosphere. The music is gently amplified with three main artists each month and one or two pre-booked floor spots. Complimentary tea and coffee is available and feel free to bring your own drinks and nibbles.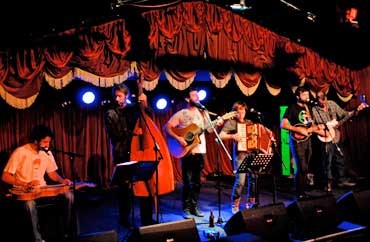 Guest artists this month include:
Green Mohair Suits - Garage Grass. A quartet of expressive songwriters that take their four-part harmonising as seriously as they take their dedication to a drunken good time, Brian Campeau, Richie Cuthbert (Cuthbert & The Nightwalkers), Jason Mannell and Ben Romalis have no choice but to shift what began as a side project up several gears. Their inspired musicianship has seen them compile a collection of quality original tunes – a solid mix of heartbreak and hangover, humour and humility – that are crying out to entertain a broader audience. "We are loose and tight at the same time. We sing like angels in a dirty bar. Like a perfect naked woman covered in ants.
Cap in Hand is a folk duo comprising "Nigel Walters" (also of Wheeze and Suck Band) and "Dave Spira". Dave and Nigel both play acoustic guitar in a range of open tunings and write many of their own songs and tunes, they are fine musicians and entertainers. With influences including Nic Jones, Martin Simpson, Simon Fox and Bill Mize their music ranges from traditional to contemporary. Come along and enjoy the delightful interplay between Dave's dexterous finger style guitar and Nigel's fine singing and multi-instrumental (guitar, mandolin and cello mandolin) playing.
Dave Sattout - Guitarist, percussionist, singer, songwriter, composer, advertiser, lawyer, drinker, ranter; Dave Sattout has packed a lot into the past decade. In 2010 he played to thousands at festivals around Australia with funk/soul band The Bakery, produced a rock'n'roll epic with Jimmy Swouse & The Angry Darts and worked with a jazz trio. In solo mode Dave draws on a combination of Travis picking and a unique home-spun technique to support his wordy, witty tales of the road, the city and suburban Sydney. Dave is bringing a swag of new, progressive folk tunes.
Ian 'the Pump' Macintosh - is best known as melodeon player and songwriter with the popular Wheeze & Suck Band. He is also an exhibiting fine artist, an event designer and a teacher of traditional English dance.  Ian's musical life has taken him from his manifestation as a solo folkie performing onstage with Ewan McColl and Peggy Seeger at the latter's folk club in London in the early 70s, via psychedelic electronics acts, 35 years teaching the dark arts of English ritual dance, to his current role with the Wheezers. A regular solo performer in Australia and the UK, Ian has also won the Australian Songwriters award, and has been a finalist in two MusicOz song writing competitions. Currently, Ian's solo performances present a blend of his original songs and tunes, alongside original readings of traditional material, delivered with a blend of electronica and acoustic sounds. Ian has released six albums with the Wheeze & Suck Band and has a solo album available at gigs.
Coffee and tea is available but BYO refreshments and nibblies.
The Shack is held on the first Saturday of every month. There's a cover charge of $20 (or $15 for members, students and pensioners) to cover costs.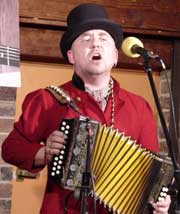 The Shack is a non profit organisation – all proceeds go toward the promotion and presentation of original, contemporary and traditional 21st century folk music.