The Shack - May '12

7.30pm, Saturday 5th May 2012
By Roxana Jarolimek
Posted Friday, January 13, 2012
The Tramshed
1395a Pittwater Road
Narrabeen
(In between the Ambulance Station and Car Park of Narrabeen Shopping Centre)
The Shack presents a remarkable line up of live acoustic music, with a variety of artists on the first Saturday of each month. It is pleasantly laid out cabaret style in a candle lit atmosphere. The music is gently amplified with three main artists each month and one or two pre-booked floor spots. Complimentary tea and coffee is available and feel free to bring your own drinks and nibbles.
Guest artists this month include:
BLAKHATZ - Is an original adult contemporary acoustic rock outfit where their songs live in the world with eyes wide open. Fresh tunes, lyrical imagery and catchy, well-developed melodies. Live they deliver energetic retro feel with new edge and sharp observation brimming with rich harmonies, humour & social comment. Blakhatz formed in 2007, after epic individual and diverse musical careers which were incubated and matured in a wild cesspool of clubs pubs and concerts. From the smudged mascara 80s, on through genres new.
Leon & Toni - Leon Rabin is a picker and a singer from out of the sixties who paid his dues in the clubs of Johannesburg, London, and across the USA. Toni Davies is very well known in singing circles for her lovely voice and always very much in demand wherever there's a gathering of singers, either to sing, or to lend her voice in harmony . Leon and Toni have been singing together for about 10 years. They're a little bit folky and a little bit country, and their songs, drawn from the traditional as well as contemporary songbooks, are all delivered relaxed, with a dash of humour, and room to sing along if you feel so inclined.
David Knight - Influenced by a wide range of music and musicians, David treats the guitar as an entire musical package as opposed to merely a solo instrument. Performances include a wide range of techniques, playing percussive guitar utilizing the sound qualities associated with the neck and body of the instrument with in conjunction with standard guitar playing practices.
Coffee and tea is available but BYO refreshments and nibblies.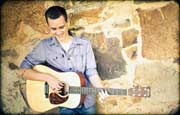 The Shack is held on the first Saturday of every month. There's a cover charge of $20 (or $15 for members, students and pensioners) to cover costs. The Shack is a non profit organisation – all proceeds go toward the promotion and presentation of original, contemporary and traditional 21st century folk music.