The Shack - March 2008

7.30pm, Saturday 1st March 2008
By Kathleen Swadling
Posted Friday, January 25, 2008
The Tramshed
1395a Pittwater Road
Narrabeen
(In between the Ambulance Station and Car Park of Narrabeen Shopping Centre)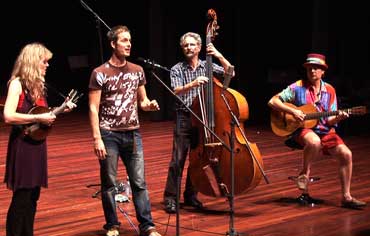 Guest artists this month include:
Urban eXcentrics - Featuring two double basses, guitar, mandolin, citern, banjo and vocals, they can take you from folk to jazz to tango and wherever else the mood takes them. The members of Urban eXcentrics have backgrounds in classical, traditional, rock/original, jazz and musical theatre and use all of these influences in their work. Unified by inspired vocals, their rich cultural history and musicianship take you on a unique journey and leave you always wanting more.
Tully - An emerging Northern Beaches band and manifestation of a dream held by lead singer/songwriter and musical genius Tully who has been performing as a single artist until the recent formation of his band. Tully has merged its varied influences into a unique style of groove-laden acoustic mystery. The melodic delivery and driving guitars create an energetic show that draws the audience into its journey.
Aaron Houston - While lead singer in the ever popular Extended Family, Aaron loves to branch out in his spare time and do his own original blues style "stuff". Folks have said that this charismatic guitarist/vocalist is "the best Bluesman in Sydney". His powerful raunchy vocals, funky rhythm and excellent guitar and dobro playing is indeed a rare treat for the Shack.
Coffee and tea is available but BYO refreshments and nibblies.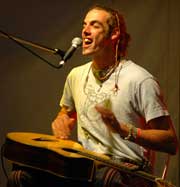 The Shack is held on the first Saturday of every month. There's a cover charge of $15 (or $10 for members, students and pensioners) to cover costs. The Shack is a non profit organisation – all proceeds go toward the promotion and presentation of original, contemporary and traditional 21st century folk music.