The Shack - June '13

7.30pm, Saturday 1st June 2013
By Roxana Jarolimek
Posted Sunday, February 3, 2013
The Tramshed
1395a Pittwater Road
Narrabeen
(In between the Ambulance Station and Car Park of Narrabeen Shopping Centre)
The Shack presents a remarkable line up of live acoustic music, with a variety of artists on the first Saturday of each month. It is pleasantly laid out cabaret style in a candle lit atmosphere. The music is gently amplified with three main artists each month and one or two pre-booked floor spots. Complimentary tea and coffee is available and feel free to bring your own drinks and nibbles.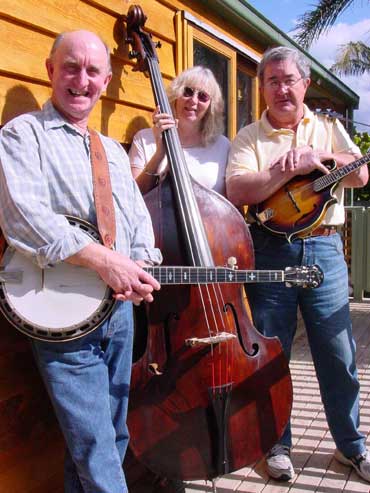 Guest artists this month include:
New York Public Library - John Flannigan ("Flano"), Warren Boyd and Isabelle Fogarty are the New York Public Library, a lively, popular, and thoroughly entertaining trio who have been an icon of the Sydney folk scene for years, having begun their career at the original Shack. They play a variety of music including originals, folk, comedic and something they call "adapted bluegrass".
Ken McArthur - Ken has been a keen guitarist for over 40years. In that time he has had the opportunity to perform many different styles at numerous venues throughout his profession. A particularly fond memory was a debut performance at "The Shack" when it was in Waterloo Street back in the 60s. He has passionately embraced his art by incorporating periods in his life involving acting, theatre, film & television. Inevitably, Ken would find himself gravitating back to his true love the guitar. Ken feels that he has been very lucky to have had the opportunity to perform with people of note, such as; James Blundell, Jimmy Little, Frankie J Holden, Sarah Mckenzie & many others. He currently performs in the "Ken McArthur Jazz Quartet", Port Macquarie swing outfit "The Black Magic Big Band", rock & rollers "The Greyhounds" & occasionally performs solo.
Sarah and Margie - Two wonderful singers, Sarah Fogarty and Margaret Salem have been performing as a duo for many years now. Their voices blend to produce amazing harmonies that are truly exquisite. To top it all off, their songs are sung straight from the heart. A rare treat indeed.
Coffee and tea is available but BYO refreshments and nibblies.
The Shack is held on the first Saturday of every month. There's a cover charge of $20 (or $15 for members, students and pensioners) to cover costs.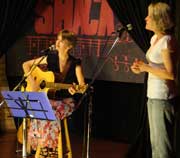 The Shack is a non profit organisation – all proceeds go toward the promotion and presentation of original, contemporary and traditional 21st century folk music.