The Shack - July 2008

7.30pm, Saturday 5th July 2008
By Kathleen Swadling
Posted Monday, May 26, 2008
The Tramshed
1395a Pittwater Road
Narrabeen
(In between the Ambulance Station and Car Park of Narrabeen Shopping Centre)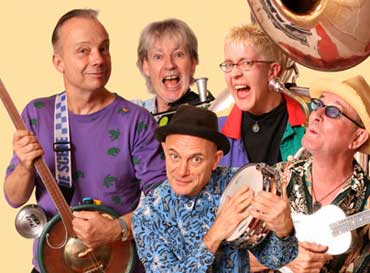 Guest artists this month include:
Mic Conway's National Junk Band - A pile of junk will loon onto the stage with their garbage bins, musical saws, sousaphone, ukulele, gum leaf, magic, juggling, fire, tap-dancing, jugs, hubcaps, washboards and, of course, the kitchen sink! Known by many for Captain Matchbox, Circus Oz and from various film and TV appearances, Mic Conway has collected together some of Australia's finest oddball virtuosos, including Cazzbo Johns of the Australian Ballet and Opera Orchestra, (sousaphone, jug, swanee whistle and bass), Phil "Philthy Dunny Seat" Donnison (National guitars and ukuleles), Jeremy "Junkyard Jem" Cook (garbage percussion) and Marcus Holden of the Fiddlers' Feast (strohviol - 19th century gramophone-horned viola).
Ami Williamson - "With a voice of natural beauty, this daughter of a country music artist is surprising audiences with her refreshing style of edgy, poetic and intelligent folk pop music . . ." Ami Williamson is one of those rare female singers. While her roots are firmly in the tradition of singer/songwriter, her richly diverse upbringing had Ami taking the stage not only in opera and classical, but also touring with her father, country music artist John Williamson. Ami is now focused on her songwriting, performing her own compositions in a one woman show at music venues and events such as The Woodford Folk Festival. Recently Ami was a part of an entertainment tour to Iraq that was covered by ABC TV's Australian Story.
Dez Williams & the Denim Agents - a newly formed group of musicians based in The Hawkesbury Valley who will perform Dez's original songs. Dez's primary songwriting influences have been Bob Dylan, Rodriguez, Van Morrison, Neil Young and Leonard Cohen. Tone Ranley of the Songwriting Society of Australia wrote in its magazine 'Connections'; "Dez Williams sends me, I can't put it plainer than that, his songs are as good as you an possibly get, people like Dez can stop you in your tracks with a wise observation about life and its foibles".
Coffee and tea is available but BYO refreshments and nibblies.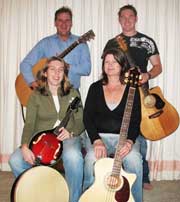 The Shack is held on the first Saturday of every month. There's a cover charge of $15 to cover costs. The Shack is a non profit organisation – all proceeds go toward the promotion and presentation of original, contemporary and traditional 21st century folk music.