About The Shack

7.30pm, 1st Saturday
By Kathleen Swadling
Posted Friday, December 27, 2013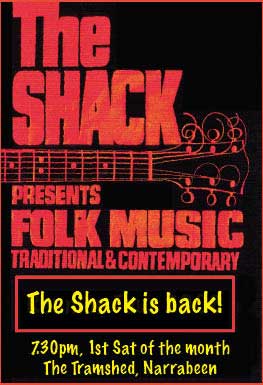 The Shack has been revived and is presenting live acoustic folk music on the first Saturday of each month at the Tramshed in Narrabeen.
The original Shack thrived in Narrabeen during the sixties and early seventies. After its initial residence in an old ambulance shed in the Narrabeen Camping area it eventually moved to a permanent residence in a shop in Narrabeen where it presented folk music three nights a week and saw many a well-known performer, some of whom have made their careers in music. Some of its well-known acts were the likes of Jeanie Lewis, Margaret Roadknight, Greg Quill and Country Radio, radio legend Bog Hudson, The Stovepipe Spasm Band, Al Head and New York Public Library.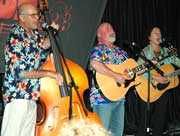 The spirit and aims of The Shack lived on though the decades and after several annual Shack reunions some of the original Shackys decided to breath new life into The Shack and formed a non-profit organisation for the express purpose of presenting and promoting traditional, contemporary and original 21st century folk music on a regular basis.
The Shack invites membership for those who want to assist and support it as well as have a say in the running of the organisation.