Chris Cady at North By Northwest!

8pm, Thursday, 5th June 2008
By Jenny O'Reilly
Posted Tuesday, April 1, 2008
Chris Cady has been playing blues music for nigh on thirty five years in one form or another. In that time he has drawn from the material of the great masters of the blues such as Blind Blake, The Blind Reverend Gary Davis, Mississippi John Hurt, Pink Anderson, the Mississippi Sheiks…….. The list is too long to continue. Suffice it to say that no one man can do it all… but only try.
He has combined these influences with Texas Swing and old-time Jazz to produce a powerful and unique style of his own that says -"THE BLUES IS IN TOWN!"
Having played Festivals in the '70s and '80s, he is once again getting out and about with appearances for the last couple of years at the St Albans Festival and the new 'Broke' festival together with local gigs around Newcastle and the Hunter.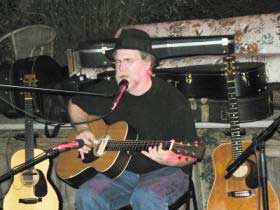 Here is a chance to see and hear the authentic sound of the ragtime blues tradition!
North By Northwest Poetry and Folk Club meets in The Cornucopia Cafe, and is one of the best folk venues in Sydney. Entry is $12 / $10. Refreshments are available and BYO's are welcome.
Cornucopia Cafe
Old Gladesville Hospital
Corner Victoria Road and Punt Road, Gladesville
For directions see this article.
Enquiries:
Jenny/John (02) 9559 3658 (h) or (0414) 903 259
Geoff (02) 9816 0393 (w) or (0421) 582 975
See you there!