Brett Robin Wood at North By Northwest!

8pm, Thursday, 7th February 2008
By Jenny O'Reilly
Posted Tuesday, January 1, 2008
Australian Artist Brett Robin Wood's live performance has been described as "Charlie Chaplin meets Leonard Cohen". There's spontaneity, humour and a bunch of catchy tunes that speak of the curious ways of the human heart and the crazy maze of the mind, shedding light on the human experience. Think Billy Bragg, Jonathon Richman, Loudon Wainwright, Paul Kelly, Steve Poltz, Lou Reed, They Might Be Giants, The Shins, Ron Sexsmith, Papas Fritas, Talking Heads and you're in the musical territory.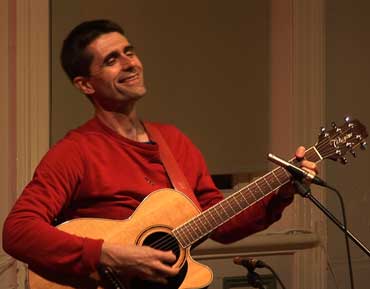 Brett Began his performance adventure as an actor/writer/musician in community theatre, touring regional areas of NSW researching, writing and performing shows relevant to the area. He went on to work in professional theatre in Australia and Overseas, including shows for the Sydney and Adelaide Arts Festivals. Brett is a twice NSW champion theatresports player and also performs in the improvisational theatre show "160 Characters", which played sell out seasons in 2005 at the Sydney Comedy Festival and the Melbourne International Comedy Festival.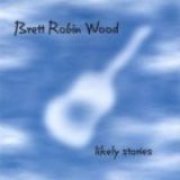 In his album Likely Stories, Brett, with a bunch of fabulous musical cohorts, inclluding Liz Frencham, crafts his tunes into expansive, richly layered and energised folk-pop gems, which include tributes to the humble cup of tea, ruminations on the fate of lost umbrellas and other reflections on urban life. To listen to Brett, go to his page on MySpace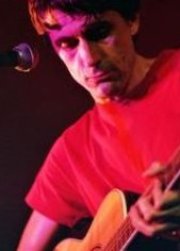 Brett's a regular at Sydney venues including The Side-on Café, Cabaret Voltaire, the Cat and Fiddle, the Harp Irish Pub, the Sandringham, the Vanguard, Cafechurch, and most recently, the Loaded Dog. He knows the power and pleasure of language. Engaging, touching and often very funny, when Brett Robin Wood's evocative tunes come to land in your psyche, you'll be left smiling in celebration of what it means to be human.
North By Northwest Poetry and Folk Club meets in The Cornucopia Cafe, and is one of the best acoustic venues in Sydney. Refreshments are available and BYO's are welcome.
Cornucopia Cafe
Old Gladesville Hospital
Corner Victoria Road and Punt Road, Gladesville
For directions see this article.
Enquiries:
Jenny/John (02) 9559 3658 (h) or (0414) 903 259
Geoff (02) 9816 0393 (w) or (0421) 582 975
See you there!