Jennifer Lees + Carrl Myriad at North by Northwest

Thursday, 2nd March 2006, 8pm
By Jenny O'Reilly
Posted Wednesday, March 1, 2006
Only a few days after a fantastic Sunday concert with Wayward, we are back at the Cornucopia This Thursday, 2nd March, at 8pm with two great performers, Jennifer Lees and Carrl Myriad.
she will delight your ears
Jennifer Lees - already well known as a member of the Roaring Forties, Jennifer is also an excellent solo performer. She will delight your ears with vocal colour as she sings a wide range of material from gospel, blues and folk, and will tickle your ribs with one of her wickedly humorous self-penned poems.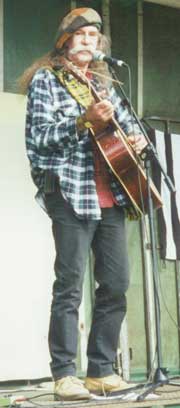 Carrl Myriad - Greatly inspired by traditional music, Carrl's delivery style, forged over years of playing in bush, Rock, Country and folk bands has a contemporary edge. His repertoire includes ancient Celtic chants, bushranger ballads, modern love songs and songs in the Cornish language.
North By Northwest Poetry and Folk Club meets in The Cornucopia Cafe, and is one of the best acoustic venues in Sydney. There will be refreshments for sale and BYO's are welcome.
Enquiries - Jenny/John 9559 3658 (h) / 0414 903 259 (m) jdcarter@iinet.net.au , Tony 9858 7882 (w)/0409 784 689 (m).
See you there!