Marcus Sturrock at Macquarie Towns Music Club

7.30pm, Sat 21st February 2009
By Dez Williams
Posted Tuesday, January 6, 2009
Marcus Sturrock is a musician from Western Australia and is currently on tour at various festivals and venues throughout the East coast of Australia between January through to the end of June. Marcus was recently a main bill at the 2009 Illawarra Festival as well as other Sydney venues. One thing is for certain is that this guy is a high calibre act. He has played at the largest and the smallest festivals worldwide and also played with the likes of members from Pink Floyd, David Bowie and Phil Collins. On the folk music side, Marcus has played alongside Tony McManus, Jeff Lang, Lucky Oceans, Bruce Mathiske, Phil Manning, Nick Charles and Peter Grayling to name a few.
Further to that he has played with members from the John Farnham Band, Bee Gees, John Butler Trio, Wendy Matthews, Grace Knight and Vince Jones. Make sure you come out for this bloke as he doesn't leave WA very often and he is highly talented and will surely entertain.
Check out his website.
Marcus will be supported by Fergusson and a variety of local singers, musicians and poets.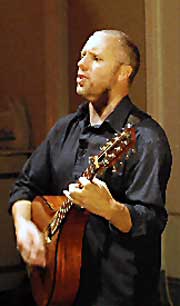 Fergusson is a solo artist specialising in acoustic, original music that is influenced by the folk music genre and is a one time member of the popular Australian folk group 'The Creel'. He has performed at Woodford, the National Folk Festival, Port Fairy, Illawarra and Blue Mountains folk festival. After a hiatus of 9 years, Fergusson eventually returned to stage with a solo album called 'Sam', a collection of original songs, embracing the increasingly popular genres of acoustic/folk/rock/roots. His album was released in December 2008 to critical acclaim.While incorporating multiple guitar tunings to increase diversity of expression, it is Fergusson's use of the Irish Bouzouki as a solo and accompanying instrument for his voice in a contemporary sense that is creating interest from audiences. Most recently, Fergusson has included the use of Loops and the Stomp Box to enlarge his sound, allowing for a greater intricacy, harmonization and rhythmic drive.
Find out more about Macquarie Towns Music Club by reading our latest newsletter, 'The Beat'.