Macquarie Towns Music Club Concerts - 2011 February, April, June

19th Feb, 16th Apr & 18th June 2011
By Dez Williams
Posted Wednesday, December 1, 2010
StompKats - February 19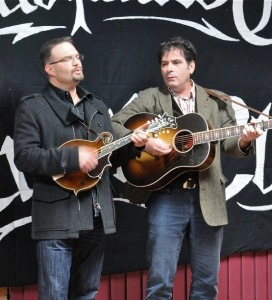 Reminiscent of the sounds of rural America sometime between the 19th and early 20th century, StompKats, with their hard'n fast Bluegrass gutbucket rhythms and high lonesome harmonies, will take you on a journey when life was a little simpler. With their old school harmonies, raw acoustic interplay and driving rhythms reminiscent of twangin' country and Delta blues just like the good ol' days, StompKats will make you want to get up and stomp.
Together Holstein and Bo'Weavil are StompKats. Holstein has musical roots in the country and folk scene where acoustic guitar, harmonica & strong vocal harmonies were the order of the day. This path led to several original independent solo albums with local & international airplay & several song writing awards. Of note were the 2002 Tamworth TIARA for heritage song of the year & several 2007 independent nominations with TV airplay for a country rock video clip release.
Bo'Weavil's musical roots go back a way and in his previous incarnation worked as a bass player for artists as diverse as Alison Durban to Rolf Harris. In the 80's Bo performed with top 40 hit bands of the time and appeared on programs such as Hey Hey It's Saturday, Sounds Unlimited, Countdown and Oz for Africa global concerts.
Come on a journey with StompKats and get back to traditional roots where vocals, harmony and instruments are unadulterated by technology, and where songs come from the heart. Check out their Facebook page.
Kate Rowe & Ryan Morrison - April 16
Kate Rowe is an award-winning Australian singer-songwriter. A former French scholar and English teacher at the Sorbonne University in Paris, her songs and performances are characterised by powerful stories, catchy melodies, a quirky sense of humour and a "magical stage presence".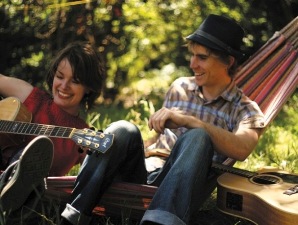 In 2010 Kate Rowe was named the Australian Songwriters Association "Songwriter of the Year", and won three other categories in the competition. She won a Lennon Award in the Children's Category of the 2009 John Lennon Songwriting Contest for her song "Space Rabbits of Brocklevoons". Kate's second album "Nature's Little Game" was released in July 2010. Showcasing Kate's talent for writing, it ranges from "Coffee My Lover", a cheeky love song for coffee, to "Dusty Room", a rich, symbolic song about the power of friendship in healing grief.
Kate performs with Ryan Morrison, with whom she has completed two tours of Australia.
Ryan Morrison is an up-and-coming songwriter from Perth, probably best known as "the Lightpole guy" in the infamous Spooky Men's Chorale. With a voice like melting chocolate, and hauntingly beautiful songs, Ryan is young, romantic and passionate. His debut album will be released in 2011 and features the gorgeous choral arrangements for which he is known as a choir leader and arranger.
Together, Kate and Ryan make audiences laugh, cry, sigh, think deeply, and go home happy. Check out their web site.
Jim Low & Jason and Chloe Roweth - June 18
Jim Low is a Blue Mountains singer/songwriter. He has been writing and performing songs about Australia, its history and its people for many years. It is said that he creates and sings songs that get to the heart of the story, entertain and beg to be listened to again. "Jim's songs deserve to be heard," says respected folklorist and performer Warren Fahey. "They are genuine story songs that have a direct link to this land and this precious culture of ours. In many ways the songs link us to our history in the same way traditional songs served us in allowing us to record our emotional history".
The very talented Chloe and Jason Roweth are known for their performances of traditional and contemporary Australian bush styled music in dynamic and fresh arrangements. Featuring vocals, guitar and mandolin. Chloe and Jason gain great pleasure from bringing forgotten songs back to the stage along with creating new material which is grounded strongly in the tradition of bush culture and music. Their latest CD 'A Voice that was Still' was awarded the National Film and Sound Archive's "Best Folk Recording 2009" at the National Folk Festival.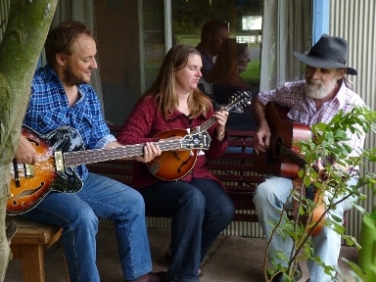 Last year Chloe, Jason and Jim began a collaboration that has been thoroughly enjoyable and very productive. Jim recorded some of his songs with Chloe and Jason Roweth at their home recording studio at Millthorpe in country New South Wales. The result was the CD 'Above the Creek Bed' which features 13 of Jim's original songs.
"Working with Chloe and Jason has been a wonderful experience," said Jim Low recently. "I have long been an admirer of their music and talent. The opportunity to work with them has been very special and the musical magic they have brought to my songs has been thrilling."
Jim, Chloe and Jason are all looking forward to performing some of the songs live at our music venue in June. Check out Jim's web site and Chloe & Jason's web site.
For more information download and read a copy of our club newsletter 'The Beat'.