Leon Rabon & Green Tea Serenade

7pm Saturday 20th October 2012
By Lydia Bowen Clare
Posted Wednesday, August 1, 2012
The next Macquarie Towns Music Club Inc Concert features Leon Rabon & Toni and the Green Tea Serenade
Leon & Toni - Drawing on both the contemporary and traditional songbooks, Leon and Toni are a singing duo who accompany themselves with acoustic guitars, whistles and keyboards.
He's a picker and a singer from out of the sixties who paid his dues in the clubs of London and across the USA, while she is a singer with a great voice, who can also sing harmony and is always in demand wherever singers gather.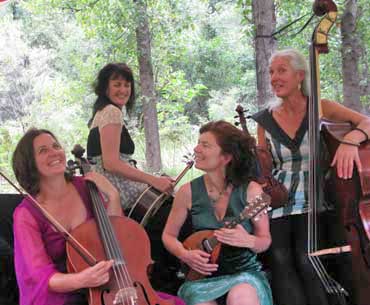 Their vocals are strong, the material is well chosen, and the obvious enjoyment of what they do is contagious. They're a little bit folk and a little bit country, and their songs are delivered relaxed with a dash of humour, and room to sing along should you feel so inclined.
Green Tea Serenade is a collective of musicians with an alternative folk bent and a penchant for tunes in 7 and tea brewed fresh from the garden... with backgrounds in folk, rock, classical and world music, the all singing lineup features cello, double bass, violin, mandolin, ukelele, guitar and percussion.
Diverse influences are imbued through hypnotic grooves, soulful ballads and dance tunes. Inspirationally refreshing ... with lashings of sunny toe tapping warm heartedness.
Green Tea Serenade are Barbara Webb violin and mandolin, Alannah Russack, guitar and ukelele, Lynne Trappel, violin and double bass and Oonagh Sherrard, cello.
The main acts are supported by floor spots that make for a very entertaining evening.
Entry: $12 non-members ($10 members)
(Includes tea & biscuits - BYO drinks & nibblies)
Candle Lit venue is walking distance from Richmond Station @:
St Peters Ed. Centre
384 Windsor Street, Richmond
For further information or to reserve a table for a group please email or call Lydia (02) 4576 0521.