Wheeze and Suck Band at Hornsby

8pm, Friday 17th Feb 2006
By Barry Parks
Posted Wednesday, February 1, 2006
Hornsby Ku-ring-gai Folk Club
This month we have the long awaited Wheeze and Suck Band!
Many thanks must go to the Mothers of Intention for the effort they put in last month with the Folk Karaoke. The evening was a huge success, too many wanting to perform, audience in stitches and boisterous singing from all. Well done Mothers!
It will be a hard act to follow for the Wheeze & Suck Band but they are up to it.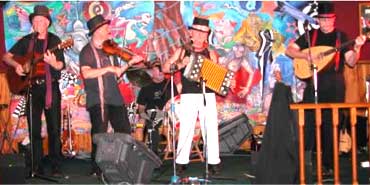 Only a top hat, ram's horn, fishnet tights-wearing folk band like the Wheeze & Suck Band could do it. They are expecting the return to Hornsby and the band of Nigel (Muddy) Walters who has been in exile for the last year in England, welcome back Muddy.
Top Hats and tattered old tales and unashamedly British, The Wheeze & Suck Band, full on and rowdy 'join in' style British Folk music.
Hornsby Folk Club
Rear Willow Park Community Centre
Hornsby

Coming up at Hornsby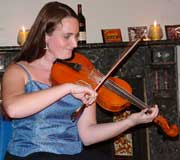 Friday 17th March - Nancy Kerr & James Fagan
7.30pm, Wednesday 19th April - Hornsby Folk Club is hosting a House Concert at Barry & Pam's house in Ryde for the renowned Irish folk singer Colum Sands.
Booking essential $20 - places limited
Contact Barry by email or on 9807 9497 or at the club this month.
Note there will be no Folk Club at Willow Park on Fri 21st April as we will all be at St Albans Folk Festival.

Colum Sands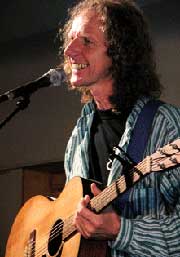 . . . a wonderful evening of entertainment. A natural witty storyteller, Colum charmed the audience with his lively and evocative melodies, colloquial lyrics and gentle humorous tales of everyday life in the past and present. Not only that, but the man has a wonderful voice and is no mean guitar picker . . . [Jim Brough, Folk on tap]
On his travels around the world he soon discovered that many of his songs had arrived before him.