Huldre Folk at Hornsby Kur-ing-gai Folk Club

8pm Friday 16th March 2007
By Barry Parks
Posted Thursday, March 1, 2007
HuldreFolk
further adventures in story and song
with
Yuri the StoryTeller & Paul Hemphill
Hornsby Kur-ing-gai Folk Club
Beatrice Taylor Hall
(Rear Willow Park) Edgeworth David Avenue, Hornsby
Further details email: Barry Parks

In the dying decades of the last century, the shadowy and iconoclastic HuldreFolk appeared out of nowhere with their unique combination of stories and songs, and then almost as suddenly, disappeared into the mists of memory.
HuldreFolk were known for their unusual songs and stories, and an adventurous approach to music and lyric. Drawing inspiration from all over the modern, and not so modern, world – the sad and the serious, the pleasant and the delightful, HuldreFolk illustrated that music was indeed the mirror of the human condition.
In the intervening years, there have been unconfirmed sightings of HuldreFolk - the word is old Icelandic for 'hidden people' - in ones and twos and, much more rarely, threes. They are now a virtual band, ready to entertain you, 24/7 at http://www.folkclub.com/huldrefolk/ but once in a while, you may be fortunate enough to catch them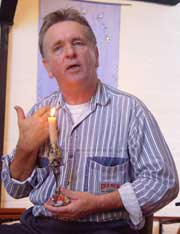 In the familiar, ageless glow of candlelight, Yuri, the Russian-born Master Storyteller , captivates his audiences by creating word-images that bind the listener to the magic of the classic folktale. Yuri is the archetypal village storyteller. He has appeared throughout Australia, including World Expo 1988, guest performances at the major festivals (Port Fairy, Maleny, and the annual National Folk Festival), and public radio and television broadcasts. His public appearances have included World Expo1988, guest performances at the major festivals, (including Port Fairy, Maleny, and the National Folk Festival), and hosting public radio and television broadcasts.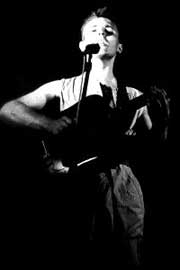 Paul Hemphill has performed throughout Australasia and the UK, on his own and also as a member of shadowy HuldreFolk, combining poetry and music, horror and humour. Vikings, Romans, Mongols, and the Spanish Inquisition all faced the music. Something old, something new, something borrowed, something that may take us disappearing down the foggy ruins of time–pushing poetic license to its hazy limits, reacquainting us with his particular take on history, imparting an altogether different perspective on pain and pandemonium, and sharing with us dubious anthems to power, pride, and prejudice.
There are live and studio audio pieces on Paul's web site. Click on the audio link. Email:aul@folkclub.com
Hornsby Kur-ing-gai Folk Club also presents Northside Folk - a one hour folk Radio show every Sunday morning from 9am on 2HHH 100.1 FM