Nick Rheinberger is back in Humph Hall

10.30am (Kids show) & 7pm (adult cabaret) Sat 4th Dec 2010
By Wayne Richmond
Posted Wednesday, July 14, 2010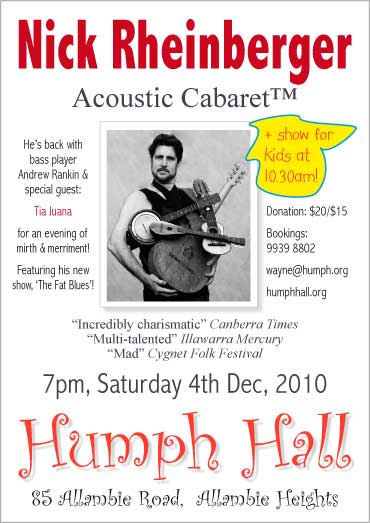 Nick received a standing ovation when he performed in July 2010. Now he is back with bass player Andrew Rankin for another evening of mirth and merriment featuring his new show, 'The Fat Blues'!

As a bonus extra, he will also be presenting a special show for kids at 10.30 in the morning.
Nick Rheinberger is one of Australia's most versatile entertainers, regularly performing solo, with a swinging blues band, in front of kids, as an MC, a poet, an actor and a comedian, as well as holding down a day job as an ABC radio announcer. At Humph Hall, Nick will be playing his vintage galvanised iron guitar and a collection of small instruments which barely fit his oversized hands.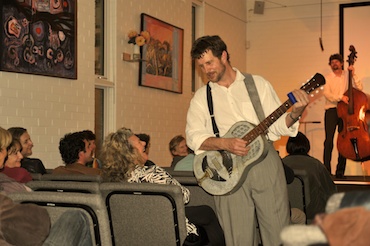 Visit Nick Rheinberger's MySpace web site.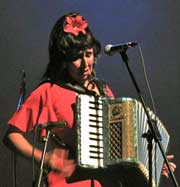 The support act will be the amazing Tia Juana, a cabaret performer with a passion for quirky ballads and bizarre love-songs. In performance, she takes a tantalizing journey through songs of sorrow, littered with tangos of torment, fateful fado and unrelenting tales of woe. Tia Juana has performed at a variety of festivals including Woodford, Illawarra Folk Festival and Melbourne Fringe. Read more about Tijuana on MySpace.
As with all concerts in Humph Hall, Nick Rheinberger and Tia Juana will perform acoustically - no PA system!
Entry free: (Optional donation: $20/$15)
Call or email Wayne (02) 9939 8802 to reserve your seat.
Humph Hall
85 Allambie Road
Allambie Heights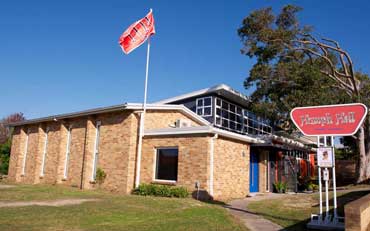 Formerly the Allambie Heights Uniting Church, Humph Hall is now the private home of Gial Leslie and Wayne Richmond.