The Earth in Harmony - Ecopella at Humph Hall

7pm, Saturday 2nd July 2011
By Miguel Heatwole
Posted Thursday, April 28, 2011
Warning! May cause harmony to the environment!
Passionate, satirical and creative, environmental choir Ecopella has been spreading its a cappella manifesto around Sydney since 1998, and more recently in the Blue Mountains, Illawarra and Canberra as well. Ecopella describes its repertoire as 'Save-The-World Music.' Ecopella have sung at many festivals and performed at the 2011 National Folk Festival.
Ecopella's music is unique. Several of the members have contributed original compositions, and the arrangements of the other pieces in its repertoire – mainly folk and popular songs – were all written by members of the choir. The repertoire contains some extraordinarily powerful and solemn works but also quite a number of witty, satirical and very funny pieces.
The songs reflect the group's concern with environmental issues: sustainable living, global warming, genetic engineering, deforestation, and green activism are among the themes they sing about. And while there is never enough good news for the environment, an Ecopella performance is never depressing. Their songs rouse the full emotional range, from anger to joy, love to sorrow - often lightened with humour and always empowering.
Whether the mood is solemn or hilarious the material is skilfully arranged for unaccompanied voices, and expertly interpreted by the choir's founder and musical director Miguel Heatwole.
Miguel has also been musical director of the Solidarity Choir since 1990, and is a member of Triantán, a vocal trio performing songs in Gaelic, as well as a solo singer and workshop presenter.

Suggested optional folding donation - to benefit a yet to be determined environmental cause.
Call or email wayne@humph.org (02) 9939 8802 to reserve your seat.
Humph Hall
85 Allambie Road
Allambie Heights
Formerly the Allambie Heights Uniting Church,
Humph Hall
is now the private home of Gial Leslie and Wayne Richmond.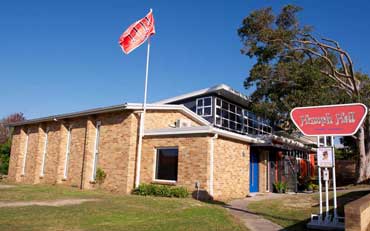 As with all concerts in Humph Hall, Ecopella will perform acoustically - no PA system!