Fairlight Folk - Aug 2008

7.30pm, Saturday 9th August 2008
By Rosie McDonald
Posted Tuesday, July 1, 2008
Fairlight Folk Acoustic Lounge
3 William Street
Fairlight

Another great night on the red leather lounges when:
King Curly launch their new CD 'The Fall and rise of King Curly' at Fairlight folk. Put together by their fans from an internet poll- the CD is a retrospective of their music from the last 10 years.
Support acts include:
Tully (of Selalu, The Shady Band, Dave Calandra Band and Loosely Woven) who was unearthed by JJJ radio
Zoe Elliot, a young up and coming local singer songwriter.
$10 concession and Folk Fed members
$15 Adult
$35 family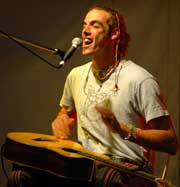 BYO, coffee, tea, soft drink & bikkies available.
Information: (0438) 091 885 or visit our web site.