Bush Music Club Saplings session of traditional music for young musicans 8-16 years old

1-4pm, Sunday 30th November, 2014. Tritton Hall, Hut 44, Addison Road Centre, 142 Addison Rd, Marrickville
By Sandra Nixon
Posted Monday, October 20, 2014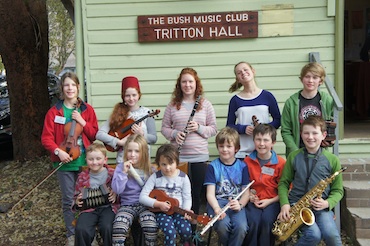 In August we held our first 1-day workshop for young musicians 8-16 of all levels who play acoustic instruments.
This is the first of a series of regular Sunday afternoon sessions where younger musicians can experience the joy of playing Australian collected music in a relaxed atmosphere with a couple of adults leading the session.
Music will be provided for those who have not attended the August workshop.
Enquiries -
phone - Helen 4297 5128 or Kerry 0409 600 949