Bush Music Club Heritage Ball, Parramatta Town Hall

Saturday 30th May 2009, 7 for 7.30pm
By Sandra Nixon
Posted Wednesday, April 8, 2009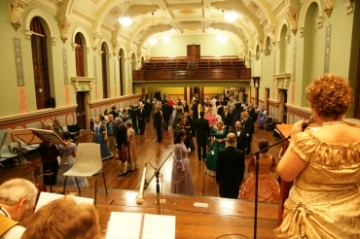 A grand occasion for your enjoyment with music by our renowned Heritage Ensemble. Dress in colonial splendour, representing your favourite 19th century fashion.

Light supper & refreshments included
Grand March 7.30pm, dance until 12.30am
Tickets are limited!!
$50 members, $55 non-members $60 for all tickets paid after 18th May.
A discount of $3 per person is available for sets of 4 couples PAID AT THE SAME TIME.
Payments can be made at Beecroft & Balmain Bush Dances, & Pennant Hills Dance Workshop
or by cheque to GPO Box 433, Sydney 2001
Ball practices will be held at Pennant Hills Dance workshop and other venues
All enquiries: Don 9642 7950
Note - Parking Meters operate until 10pm (coins needed!) & the Parking Station closes at midnight.

Post-Ball Recovery Picnic at Lake Parramatta Sunday from 11am, details available at the Ball.
Bring everything, including instruments & dancing shoes!

Photographs: Wayne Richmond