Bush Music Club Friday Night Session - Politics of the Past and Present.

8-10pm, Friday 3rd September, 2010
By Sandra Nixon
Posted Monday, July 26, 2010
Politics of the Past and Present
Songs always reflect the different ways that things happen(ed) in their own time. Maybe we can explore what makes us the Aussies we are – through the songs we sang.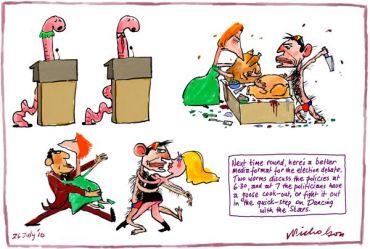 Hmmm ... I'm afraid a lot of last month's "The Continuing Tradition" items seem to be putting up their hands for "Politics of the Past and Present" ... it's a bit like a Federal election ...
some suggestions -

Folk Songs of Australia, volume 1, John Meredith & Hugh Anderson

Australia's on the Wallaby
, page 199
Back in the 1890s this looked at how a land of gold drifted into a struggle for industrial ... and provided a model for Henry Lawson's rhyme 'Freedom on the Wallaby' – shocking enough for some of the Queensland State parliament to call for his imprisonment!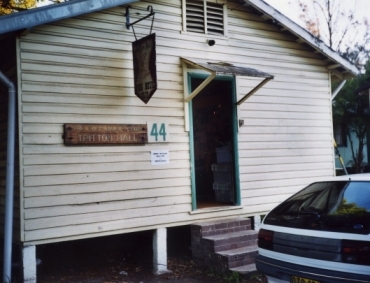 Battle Cry of Freedom, page 34
(1890s) Shearers' Strike song ... drawing on US Civil war models ...
Bushman's Song (Travelling Down the Castlereagh) page 210
We often think of Banjo Paterson as representing the Right Wing ... and maybe he was just reporting the the other side of the argument ...
"My Shout!, Songs and Poems by John Dengate

A.M.W. and S.U. Song
, page 31
"So I put my faith in the old union card,"
Bill From Erskineville, page 12
"I'm saving the deposit on a block of land," Is economics not a part of politics ... ?
No Political Songs, page 17
... including the economics of running an event for the council ...
Take Your Bulldozers Away, page 35
Development ... politics ... Economics ...?
Singabout Selected Reprints compiled by Bob Bolton

Australia's on the Wallaby,
page 16
As above: FSA 1
It's Lovely Down the Pit My Lad, page 8
From back when we worried about the welfare of coalminers ... not their customers ... and environment!
Ballad of Norman Brown, page 35
... or the authorities were prepared to shoot a few ... to keep them digging that coal ...
Sandy Hollow Line, page 88
'Duke' Tritton's view on the politics of the depression-era relief works.
The Union Boy, page 23
The Shearer's Strike era view of politics ... and relationships
Penguin Australian Song Book - vol 1 (Compiled: John Manifold)

The Commissioner
, page 152
Mid-19th century ... politics of administrative power
The Songs of Henry Lawson - edition 1 or [2] (Compiled: Chris Kempster)

Song of the Republic
, page 18
1887 ... and we are still waiting!
Freedom on the Wallaby, page 72
1891 ... and the Queensland Parliament wanted Lawson gaoled for sedition!
The Old Rebel Flag in the Rear, page 92
Seems to be an unchanging prop to politics ...
The Bushwackers Australian Song Book

The Band played Waltzing Matilda
, page 48
Once again we are seeing the problem of political handling of military involvement "Plus ça change ..."
Poor Ned Kelly, page 32
Historic material ... or political persuasion ... ?
The Second Bushwackers Australian Song Book

Ballad of 1891
, page 74
Modern view of 1890s ... continuing tradition ... ?
Come & Join the Union, page 94
Almost a reprise of the Ballad of 1891 ...
Freedom on the Wallaby, page 68
As above (Penguin book 1)
(Poor Bugger Me) Gurindji Blues, page 100
A Ted Egan song ... English wealth and industry versus land, spirit and possession
When Britannia Ruled The Waves, page 12
Roger Corbett's view of "Settlement" ... and questions about what (and who) has changed ... ?
Joy Durst Memorial Song Collection

Basic Wage Dream
, page 85
Don Henderson's 'dream' wage case
It's On! page 100
Don Henderson's comment on Australian conflict resolution
Our Fathers Cleared the Bush, page 85
Public works / development / economy / ecology ... ?
Put a Light in every CountryWindow, page 19
More Don Henderson ... on progress, amenity and public works ...
A Quiet Century – 100 Songs & Poems of Don Henderson

Basic Wage Dream
, page 20
As above (Joy Durst ...)
It's On!, page 30
As above (Joy Durst ...)
I Can Whisper, page 50
... and I can sing!
Picket Line, page 172
Then ... and again ...
Who Wrote the Ballads? page
The politics of a folk culture ... ?
Back in the bad old days, we would have said: "Ladies bring a plate - Gents bring a bottle" ... but we know better these days. Just for starters - we want something edible on the plate ... and a decent drop in the bottle!
Cost: $5

Venue - Tritton Hall, Hut 44, Addison Road Centre, 142 Addison Rd, Marrickville
Enquiries: Bob 9569 7244
Nicholson cartoon courtesy http://www.nicholsoncartoons.com.au and http://www.theaustralian.news.com.au
Photo - Sandra Nixon