Duke's Place - Australian songs in concert & session with Chris Maltby
7.30-11.30pm, Friday 10th July 2015
Tritton Hall, Hut 44 Addison Road Centre, 142 Addison Rd, Marrickville
By Sandra Nixon
Posted Sunday, May 10, 2015
Chris is a long term member of the Bush Music Club & appeared in BMC's John Dengate memorial concert where he sang Terrorist Song and Song of Childhood.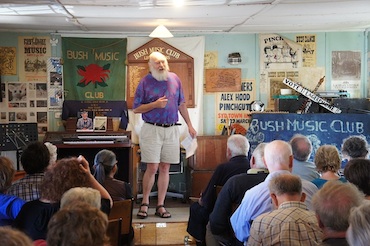 from Margaret Walters -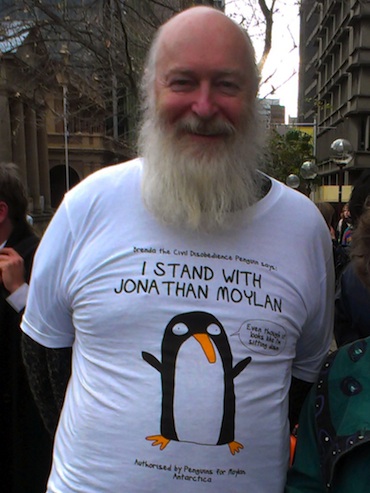 He went to concerts, festivals and sessions for years, quietly enjoying the music, never putting himself forward unless it was to help arrange or pack up the chairs. And then, one day, there's a gap in proceedings and out he comes with a traditional song you haven't heard for yonks, and he knows it thoroughly, needs no prompting. Jaws drop and you think "What a good voice!, and has he known songs like that all the time? Why didn't he tell us!" That's Chris Maltby for you.
Of course, in no time, he was courted by the Ecopella Choir (he was Green!) and the Roaring Forties (he had a beard!) and both groups continue to be amazed at the number of songs he already knows and the speed with which he can learn new and quite difficult material.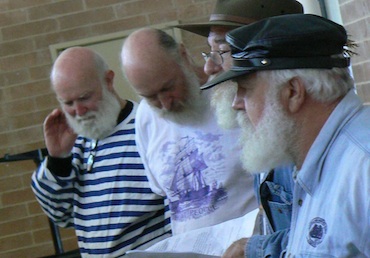 Chris had a grandfather who ran away to sea at 14 - hence his fascination with nautical songs; he grew up in a household that loved classical literature - so Kipling and other poets were kindergarten fodder; and the family were keen bushwalkers - the genesis of Chris's Green political convictions. Blessed with a sharp intellect, humanist ideals, a range of practical skills, a great sense of humour, and a supportive life partner in Prue, Chris is an all round good guy. Oh yes, he can sing, and you can be sure that the material he chooses will enrich your life!
====================
Tritton Hall, Hut 44 Addison Road Centre, 142 Addison Rd, Marrickville
Door opens 7.30 for 8pm start.
Concert & supper 8-10, Singing Session 10.00-11.30pm
BYO Australian songs
Cost - $10
Bring something to drink & a plate for supper
Enquiries - Sandra 9358 4886
Duke's place, named after our honoured early member Harold 'Duke' Tritton (1886-1965), is the place to go once a month for a great night of Australian songs in concert and session. Duke was a powerful singer who supplied BMC with many songs he had learnt in his younger days while working as a shearer and at other bush jobs. He was also a songwriter and poet giving us songs that have entered the tradition such as Sandy Hollow Line and Shearing in the Bar.