Bush Music Club - Duke's Place - Australian songs in concert & session with Helen & Tony Romeo
7.30-11.30pm, Friday 11th July 2014
Tritton Hall, Hut 44 Addison Road Centre, 142 Addison Rd, Marrickville
By Sandra Nixon
Posted Wednesday, April 2, 2014
Helen and Tony were drawn into the Bush Music Club in the late 70's and early 80's.
Starting off in the BMC Concert Party, they both made the progression into working bush bands and eventually wound up in the re-vamped Southern Cross in 1982.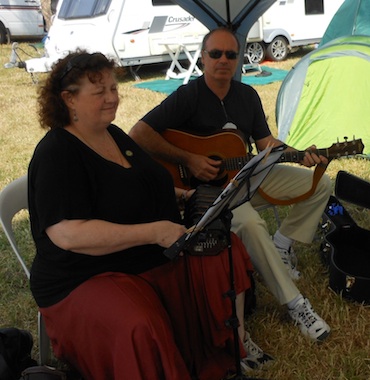 Over the past 30 years they have contributed their talents to many of Sydney's bush bands, ensembles, dance groups and organised regular poetry workshops and dinners through the 90's and are well known for their percussion workshops for bush bands. After a recent relocation to the South Coast they are also now proud members of No Such Thing.
Both Helen and Tony have a strong passion and affinity for Australian bush songs, music, dance and poetry and performing as a duo gives them the opportunity to present some of the favourite material they have gathered over the years.

Door opens 7.30 for 8pm start. Session 10.00-11.30pm
BYO songs & a contribution for supper
Cost - $10
Enquiries - Sandra 9358 4886
The Bush Music Club is celebrating its 60th Anniversary this year.

Duke's place, named after our honoured early member Harold 'Duke' Tritton (1886-1965), is the place to go once a month for a great night of Australian songs in concert and session. Duke was a powerful singer who supplied BMC with many songs he had learnt in his younger days while working as a shearer and at other bush jobs. He was also a songwriter and poet giving us songs that have entered the tradition such as Sandy Hollow Line and Shearing in the Bar.