Bush Music Club - Duke's Place - Australian songs in concert & session with Jim Low
7.30-11.30pm, Friday 14th March, 2014
Tritton Hall, Hut 44 Addison Road Centre, 142 Addison Rd, Marrickville
By Sandra Nixon
Posted Tuesday, February 4, 2014
The Bush Music Club is celebrating its 60th Anniversary this year.

Duke's place, named after our honoured early member Harold 'Duke' Tritton (1886-1965), will be the place to go once a month for a great night of Australian songs in concert and session. Duke was a powerful singer who supplied BMC with many songs he had learnt in his younger days while working as a shearer and at other bush jobs. He was also a songwriter and poet giving us songs that have entered the tradition such as Sandy Hollow Line and Shearing in the Bar.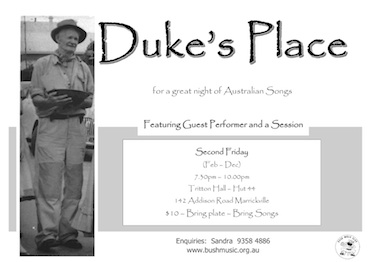 Tonight's guest is Jim Low who will be supported by a Mystery Guest who will open the evening at 8pm. Don't be late!
Jim Low is a singer/songwriter and author who lives in the Blue Mountains west of Sydney. He was born and raised in North Sydney, leaving the district in 1970 to begin a teaching career in the country.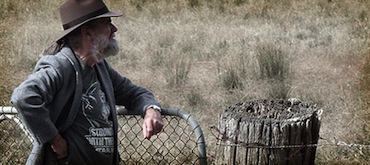 It is said that he creates and sings songs that get to the heart of the story, entertain and beg to be listened to again. He has a deep interest in Australian history having written books, articles, and school learning materials on Australian themes. Jim has performed his songs in clubs, restaurants, concerts and festivals. He has released a number of CDs and his music has been played throughout Australia and used in documentaries.
Jim's songs deserve to be heard, folklorist and performer Warren Fahey OAM says. They are genuine story songs that have a direct link to this land and this precious culture of ours. In many ways the songs link us to our history in the same way traditional songs served us in allowing us to record our emotional history.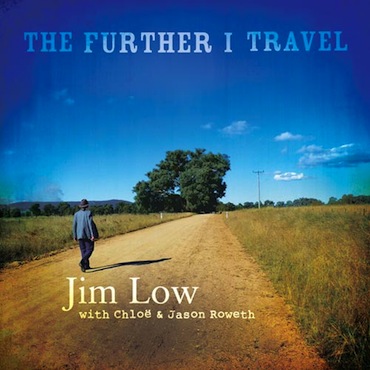 As well-known singer/songwriter Gary Shearston said: Jim travels gently, digs out rich nuggets of Australiana, observes them acutely and with compassion, and then puts his historical vignettes to melodies that pass 'the old grey whistle test' with distinction. Go with him on his travels. I think you'll enjoy the journey.

Door opens 7.30 for 8pm start
Cost - $10
Bring a plate for supper
Enquiries - Sandra 9358 4886