BMC Friday Night Session - On the Track!

8-10pm Friday 3rd August 2007
By Sandra Nixon
Posted Monday, June 25, 2007
The Bush Music Club is reviving the Friday night session, the Beer & Cheese Nights, 8-10pm, once a month.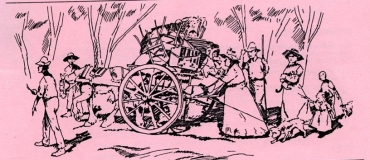 Friday 3rd August 2007 - Theme - On the Track - swaggies, sundowners, the Long Paddock, life on the track etc.
We all think of the cartoon figure of the "Swaggie", with the swinging corks that artists imagined would be less annoying than the flies, but anyone who went anywhere outside The Big Smoke was, inevitably on the track (even if it was made of steel!). Songs about going somewhere.
Bring along Songs! Poems! Recitations! Tunes! Dances!
Back in the bad old days, we would have said: "Ladies bring a plate - Gents bring a bottle" ... but we know better these days. Just for starters - we want something edible on the plate ... and a decent drop in the bottle!
Cost: $4 (members) $5 (non members)
Enquiries: Bob (02) 9569 7244