Gang-gangs at Blackheath Folk Club
7.30pm, Thu 5 Mar 2009
New Ivanhoe Hotel
Blackheath
By Patrick Harte
Posted Wednesday, January 28, 2009
Gang-gangs at the Ivanhoe
Blackheath Folk at the New Ivanhoe Hotel on Thursday 5 March 2009 will feature The Gang-gang Bush Orchestra.
They are mountain musicians who play bush music with a green leaning. Songs and tunes, new and old, of this land and the people who have made their home here. The band features usual bush instruments plus cello, harp, melody horn, whistles, recorders, mandolins, mandola and of course the banjo.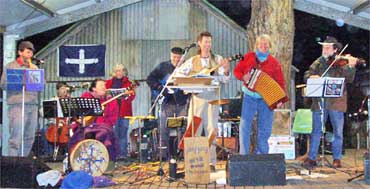 The Gang-gangs have been going since 1996 when they played in the Springwood car park to help the Springwood-Winmalee Action Group demand the School of Arts Square be built.
They now number close to 20 members and musicians are welcome to join the Gang.
Their music is as wild as the mountains and calls us to dance; it guarantees an evening of top entertainment and fun!
Join in a spot of bush, at the Ivanhoe on Thursday 5 March.
The New Ivanhoe Hotel, [dining room – smoke free] Great Western Highway Blackheath - opposite the level crossing and the station.
Folk music will start at 7.30 pm. Meals are available from the Ivanhoe's bistro from 6pm and entry is free. Floor performers are welcome. Inquires Christine 47847-7246