Pat Drummond's "The Chess Set"

8pm Saturday 10th June 2006
By Christina Mimmocchi
Posted Sunday, May 14, 2006
A night of music and theatre that might leave you thinking that our world is more than just black and white. There are two sides to every story in The Chess Set, a show which has been described as a "ambitious, provocative and political". Pat Drummond plays not one, but two characters: the white knight versus the black knight – which will prevail?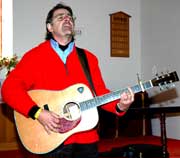 Pat Drummond is a renowned singer-songwriter who in 2003 was inducted into the Hands Of Fame at the Tamworth Country Music Festival. English folk legend Ralph McTell has said of Pat: "His presence on stage is both energising and awesome". Pat has performed The Chess Set at music festivals around the country to rave reviews. For more information, visit this section of Pat's web site.
Also playing on the night will be Christine Wheeler (vocals, guitar, Irish flute) and Cliona Molins as Freshwater.
Soup and cake available. Licensed bar.
Presented in conjunction with the NSW Folk Federation
Eastside Arts is at the site of the Paddington Markets – 395 Oxford Street Paddington. Doors open at 8pm. The venue is licensed and finger food and snacks are available. This is an all-ages venue and families are welcome. Bookings are recommended on 9331 2646 or by email. There is full disability access to the venue, a free church car park in Gordon Street and good public transport from the CBD.
For a full run down of what's coming up at the Eastside Music Café, visit our web site.
For more information about this or any other Eastside Arts event, please contact Christina or Carol on (02) 9331 2646.