Mic Conway at Almost Acoustic

Eastside Arts, 16th July 2005, 8pm
By Margaret Walters
Posted Sunday, July 3, 2005
Sensational first night at Eastside Arts!
To celebrate the big move from Rozelle to Eastside, Almost Acoustic presents a very special concert starring the one and only Mic Conway and the National Junk Band. They have been described as "post-millennium cabaret" and "new vaudeville", but we just dig those ukelele solos. Come and join the fun!
Mic Conway's National Junk Band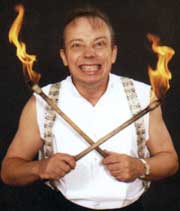 Expect the unexpected. These virtuosos of the bizarre create a live stage experience that must be seen and heard to be believed. Wielding National guitars, ukuleles, a sousaphone, a phono-fiddle, actual garbage cans and metal sinks, these rhythmagicians make venues jump.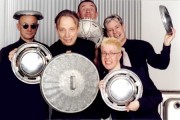 The music and antics of the National Junk Band defies categorisation. Is this post-millenium cabaret or new vaudeville? No, it's the National Junk Band. The fans have described them as :
"the Sex Pistols meets Bing Crosby"
"bluesy with a touch of Monty Python"
"extreme entertainment"
"layer upon layer of insanity, lunacy, anarchy"

Witness fire, illusion, passion, irreverent satire, singing saws, flying chooks and musical mayhem.
Gary Brown and friends
Gary Brown is a legend on the Dobro guitar and a subtle accompanist in many a line-up from Tamworth and Harrietteville to Nashville and Austin, Texas; and he's toured with many overseas artists both in Australia and abroad. He'll be performing with singer/songwriter, Cathy Gibson (guitar and vocals) - with whom he has a joint CD, Les Scott (bass and guitar) and John Lee (fiddle) complete the ensemble for the night. Cathy also has a solo CD "Not a Desperado" receiving airplay on national and community radio.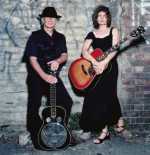 Gary established Sydney's 'Almost Acoustic' venue and is a tireless organizer and supporter of folk, bluegrass, and blues.
Bookings and enquiries: Margaret 9698 2206 or Eastside Arts 9331 2646
Main guests lined up for Saturday 13th August are Wheelers & Dealers.