Frankie Armstrong returns to Eastside Arts

Concert: Sat 10th & Workshop: Tue 13th Mar 2007
By Christina Mimmocchi
Posted Thursday, March 1, 2007
Concert with Jacqui O'Reilly + choir from Paddington Public School
Saturday 10 March
One of the world's leading unaccompanied singers. Only Sydney show!
Almost Acoustic
Eastside Music Café (The Hall)
$15/$12
Frankie began running voice workshops in 1975. At that point she had two trades. She worked as a singer in the folk scene and the women's movement, and she was a trainer in social and youth work. It was her passion for the traditional styles of singing in the British Isles and from around the world that informed the development of her voice and singing workshops. Having been involved with folk and political songs starting in the 50s, she's always been fascinated by the way that voice can enhance the individuals' sense of well being and also develop a sense of community between people. It can link us to the thread of song that comes down to us from our ancestors. Hence she has always been interested in exploring voice and song in its historical, cultural, political and spiritual dimensions. She also sees the voice as a tool to aid our self-expression, creativity and confidence. Over the past two decades she has especially focused on the body-voice connection, having worked and trained with a variety of body work and movement teachers.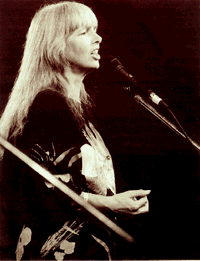 Whatever the focus of the workshop, she believes in creating a supportive, generous atmosphere where people do not feel judged or under pressure to get things "right". The intention is to help us all find a creative balance between relaxation and energy.
Over the years she has run workshops with almost every kind of group - eg children of all ages and abilities, professional theatre, companies, community and women's groups, people with disabilities, drama students, therapists, psychiatric patients, folk song students and the elderly. She runs workshops annually for students at NIDA.
Frankie has made 9 solo albums as well as featuring on numerous shared and themed recordings, contributed chapters to 8 books, has an autobiography and has co-edited Well Tuned Women on women and voice with Jenny Pearson.
Voice workshop
"Singing From the Souls of Your Feet" – come and free your voice.
7-9pm, Tuesday 13 March
Stone Gallery on Oxford (Paddington Uniting Church)
$20/$15