Kim Sanders & Friends at Almost Acoustic

Eastside Arts, 3rd December 2005, 8pm
By Margaret Walters
Posted Friday, November 18, 2005
December at Almost Acoustic features a "dance your feet out" CD launch from multi-instrumentalist Kim Sanders & Friends
One time cane-cutter, meatworks labourer and documentary film researcher, World Music pioneer Kim Sanders has steamed up the coast of Sumatra in a tramp steamer full of rubber, survived border crossings with Georgian gun runners and been arrested for spying by a Macedonian Brezhnev lookalike. He has played on national radio in Bulgaria and national TV in Indonesia, with Gypsy wedding bands in Macedonia, in mosquito-ridden clubs in Gambia, tavernas in Greece, tea-houses in China and concert-halls from the Atatürk Kültür Merkezi in Istanbul to the Sydney Opera House.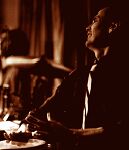 Kim plays Macedonian, Turkish and Bulgarian gaidas (bagpipes), aardvark (Australian/Turkish/Bulgarian bass bagpipe); Bulgarian and Turkish kavals (long wooden flutes), saluang (Sumatran flute), furulya (Hungarian flute) and ney (Dervish flute); mey, duduk, guanzi (Turkish, Armenian, Chinese double reed instruments); zurna (Turkish/Balkan shawm); tenor sax; tin whistle; davul (dauli, tapan)(drum) and small percussion.
One of Kim's ongoing projects is a "floating ensemble" of variable size and personnel - the "Friends" - read about them all at Kim Sanders & Friends.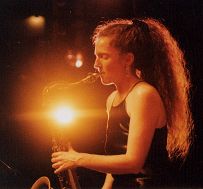 Kim's will be launching his new CD Trance'n'Dancin with some trancin' followed, funnily enough, by dancin'. Kim will be joined by Peter Kennard (dhaf, darabulkka and other percussion), Steve Elphick (bass), Llew Kiek (bouzouki, ba lama guitar, keyboards) and special guests.
Doors open 8pm. Music from 8.30pm. The venue is licensed and substantial finger food and snacks are available. No BYO please.

Bookings recommended – 9331 2646 or bookings@eastsidearts.org.au – $15/$12
Eastside Arts is at 395 Oxford Street, Paddington - the site of the Paddington Markets
Free car parking – Gordon Street Church car park. Good public transport.
Almost Acoustic is supported by the Folk Federation of NSW, Eastside Arts, and the NSW Ministry for the Arts.