Review: September at Almost Acoustic

By Margaret Walters
Posted Tuesday, September 13, 2005
The guests were "Just a TAD and Moz" and Martin Pearson - and they gave us an exceptionally fine night's entertainment.
social justice is a theme that has underscored all their musical lives
The quirky name for the quartet derives from the given names of three in the group - Tom Bridges, Alison Jones and Deanne Dale - and Moz is the nick-name for Maurie Mulherron. The four individuals have had many collaborative relationships in many contexts over the years:Tom and Moz first met each other at Macquarie University when they were in a group called the Radical Songsters; Tom and Deanne host the very popular Pablo sessions in the Blue Mountains; and Alison has been involved with a community choir, The Mudlarks, and is working towards a production on CD of the compositions of her partner, the late Chris Kempster; the three are involved with the Blue Mountains Trade Union Choir; Maurie is well known for his musical biography of Pete Seeger, "One Word, WE!". So, social justice is a theme that has underscored all their musical lives which gives them first rate credentials and ideals as far as this reviewer is concerned.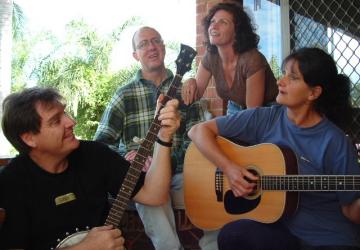 They sang nine or ten songs encompassing classical canons, pop songs, country, and folk songs, including Maurie's "Four Strong Women". It tells of four members of the peace group, Ploughshares, who broke into the high security hangar owned by British Aerospace in Lancashire in 1996 to disarm one of the newly built Hawk jets which were due for delivery to the Indonesian Government who used the planes against the villagers of East Timor.
The overall sound of "Just a TAD and Moz" is 4-part vocal harmony with minimal accompaniment here and there on guitar and banjo. Tom Bridges has a stunning bass voice; but the voice that blew the night away was Deanne's - sure, strong and with a surprising and very memorable edge.
A highly recommended act.
Alison's voice and Deanne's were a perfect match in the Bill Monro song, "The one I lerve is garwn" - the rolling eyes adding to the pathos! They followed that with "Hay Una Mujer" by Holly Near - superbly sung. A highly recommended act.
Beneath the sharp wit and the parodies is a very well-read and thoughtful mind
Then we had Martin Pearson - well, he had us, by the short and curlies! He is masterful at holding an audience and his mix of humour and song was finely balanced. Beneath the sharp wit and the parodies is a very well-read and thoughtful mind. Moreover he thinks about how to sing a song. One particular one, "Alleluia" by Leonard Cohen, is not (to my mind) an easy song to sing convincingly because of all those "surely-he-must-be-joking rhymes" but by careful pacing of the words, Martin drew out the composer's serious intentions.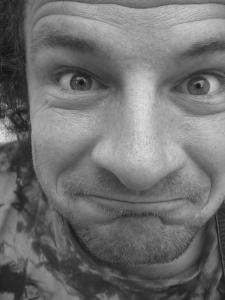 Another instance of Martin's erudition showed in his convincing lecture on the historical setting of the ballad, "Anachie Gordon". I don't think Martin has performed more than extracts of his "Unfinished Spelling Errors of Bolkien" in Sydney. Let's get him back from Melbourne to do that for us sometime.
Meanwhile - we have some lovely songs he's introduced us to - one starting "And then with good intentions" by Paul Metsers from New Zealand, and an Alex Legg song called "Were you there" (which we'll also be hearing from Enda Kenny when he performs at Almost Acoustic on Saturday 8th October).