Review: July at Almost Acoustic

By Dawn and Mike Davis
Posted Wednesday, July 20, 2005
This first night at Almost Acoustic's new location at the Eastside Arts Centre at the Uniting Church Hall in Paddington was a real success! We had a sell-out crowd and everybody seemed to enjoy themselves immensely.
Congratulations must go to the stalwarts and everyone else who helped to make our first night so wonderful. While there were many familiar faces there were also many new faces and this hopefully augurs well for the future success of the venue.
Gary played some brilliant dobro that at times almost spoke
Our first performers, were Gary Brown and Friends, a group of four. Gary played dobro, Cathy Gibson vocals and guitar, John Lee vocals and fiddle and Les Scott on vocals, bass and guitar. The set was a mixed of songs and tunes. Gary played some brilliant dobro that at times almost spoke.
Cathy sang beautifully and it was a great sounding bluesy voice and the songs she chose were eminently suitable including a nice rendition of the St James Infirmary. She sang a little quietly, while we felt she has the potential to really belt it out a little more.
The was a half hour break which was perhaps a little long...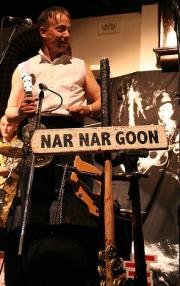 After the break we had a performance from the redoubtable Mic Conway and the National Junk Band. They never cease to amaze me with the instruments they conjure up out of just about anything, including the kitchen sink, the saw and the jug.
The performance went at a great pace with a wonderful comic energy
The band comprises Mic as the front man, on vocals, National tenor guitar, ukulele, harmonica, gumleaf, and musical handsaw, with tap dancing, magic, juggling and fire eating for an encore. Jeremy Cook, vocals, kitchen sink, washboard, thimbles, pots, cans, dinner bell, scrubbing brushes, garbage bin. Phil Donnison played National guitar, National Steel guitar, National ukulele, kazoo, and nose flute. Cazzbo Johns on vocals, Sousaphone, jug, electric bass, swanee whistle, soprano vacuum cleaner tube, hosepipe trumpet, and vocals. Marcus Holden was on vocals, strohviol, mandolin, and National guitar.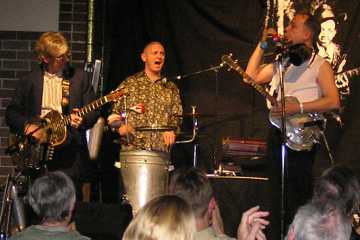 The performance went at a great pace with a wonderful comic energy.
The Band had the audience roaring with laughter with their humour and magic and very bad jokes. Most impressive was the energy and virtuosity of Cazzbo, the sousaphone player, who seemed to be able to get that strange-looking instrument to make every possible sound.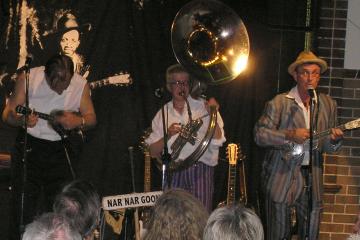 The thing that really stands out about the Junk Band is their flexibility of performance. The humour and performance energy was astounding, as was the variety of the material. Hit me with Your Rhythm Stick, Lazing on a Sunny Afternoon and The Sex Pistols', God Save the Queen to mention just three of 14 songs performed.
All members of the band seemed masters of their instruments. They were able to make any tune or song into something special with their energy, playing and magic and fun instruments (not to mention their great voices and comic timing).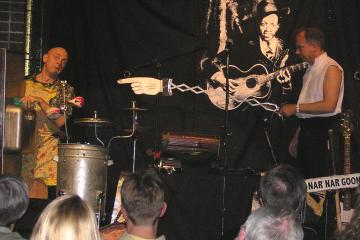 You can catch Mic and the band at a "Judy Tihany/Backhouse Memorial Concert" which will be held on Sunday, 21st August at the Bronte Bowling Club, 16 Wallace St, Waverley (afternoon) with "Cafe at the Gates of Salvation" and Jackie Orszaczky.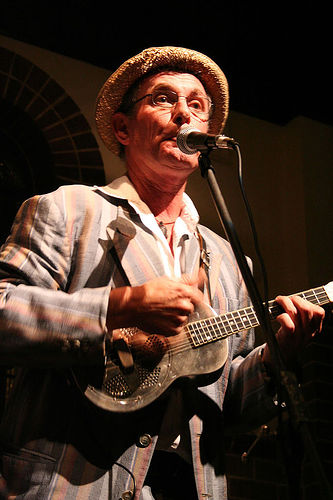 * We are grateful to Katie Andrews for the close up photographs of Mic and the National Junk Band and to for the Tony Fonseca for the panoramic shots.