Sydney Cove Project + Milk

Sat July 2 2005 - Glebe
By Jane Faulkner
Posted Saturday, June 4, 2005
July is a month for young songwriters with good stories to tell at Eight O'Clock Sharp.
Stories of Australia old and new
The Sydney Cove Project is a songwriting project by Blue Mountains-based musician Ben Scott. It relates stories from the early history of Sydney in the years following the arrival of the First Fleet; stories of important characters in Australia's history, both indigenous and European, based on journal entries and letters.
Ben writes: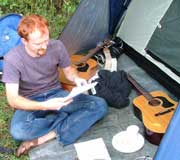 . . . It is hard to remember that at the very beginning (of European settlement) there were no massacres, no wars upon aboriginal people. Instead there was a mix of ingrained prejudice and genuine humanity, intense mutual curiosity, confused diplomacy, misunderstanding, patience, humour, friendship, exchange of gifts, even mutual dancing . . . This project began when I read the only surviving letter written by the great indigenous leader from first fleet times, Bennelong, in Tim Flannery's book 'The Birth of Sydney'. I was struck by the way the letter eloquently captured the difficulties he faced, trying to be an ambassador for his people, and also fitting into this new society that must have been so alien. It is very emotive stuff and I wrote a song, called 'Bennelong', based on the writings. More songs followed . . .
In writing the songs of the Sydney Cove Project I have aimed to contribute folk songs about the First Fleet era - the gap between 'Bound for Botany Bay' and 'Moreton Bay'.
The Sydney Cove Project's CD will be launched at this concert.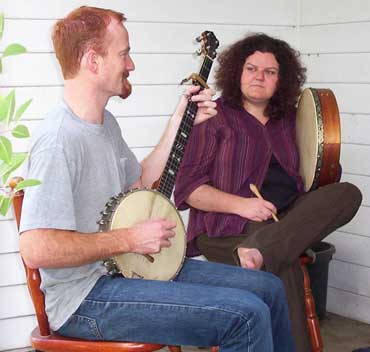 Milk are a Melbourne based group whose live performance features songs that take you from the streets of Melbourne to the subways of New York, with cheeky cabaret, finger lickin' country, original folk tunes and bluesy gospel covers.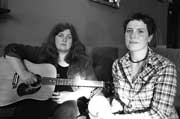 They present intimate folk roots arrangements with multi instrumentalist, Helen Begley, on vocals, guitar, and accordion and the gorgeous vocals and hand held percussion of Emily Hayes. These women will deliver a show packed with fine music, good humour and true stories.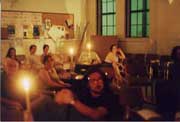 Eight O'Clock Sharp
The Cafechurch Space
Corner of St Johns Rd and Colbourne Ave, Glebe.
Just a short walk from Glebe Pt Rd, (bus routes 370, 431-433). Tickets: $14/$10*. Free coffee and tea. BYO and smoke-free. Doors open 7:30pm. The Cafechurch Space has already established its reputation as a fine acoustic music venue. It is set to host more folk events in 2005. It is an intimate, candle-lit, concert setting where the performance is the focus.
(*Rate for NSW Folk Federation members and other concession holders)
For more info, contact eos@cafechurch.org.au