Frencham Smith

Friday April 1 2005 ($10)
By Jane Faulkner
Posted Thursday, March 10, 2005
Eight O'Clock Sharp is hosting it's first folk concert for the year.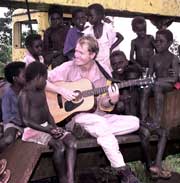 Fred Smith has returned from Canada and will once again bring his song writing talents together with Jigzag's honey voiced bassist Liz Frencham to present a night of catchy songs strong on emotion and full of wry observation. Fred's songs run the gamut from comic ditties to very personal ballads.
The night will also feature solo spots from both Fred and Liz.
Frencham Smith's album Into My Room (2003) rings with authenticity and charisma, and received rave reviews as well as extensive radio airplay.
The Cafechurch Space
Corner of St Johns Rd and Colbourne Ave, Glebe.
Just a short walk from Glebe Pt Rd,(bus routes 370, 431-433). Free coffee and tea. BYO and smoke-free. Doors open 7:30pm.
Intimate, candle-lit, concert setting
The Cafechurch Space has already established its reputation as a fine acoustic music venue. It is set to host more folk events in 2005. It is an intimate, candle-lit, concert setting where the performance is the focus.
For more info, contact Jane.