Brett Robin Wood + Michael Olliffe, Huw Luscombe

Sat August 6 2005, Glebe
By Jane Faulkner
Posted Thursday, July 21, 2005
Eight O'Clock Sharp in August features three men presenting original compositions that are thought provoking and fun - in song and spoken word.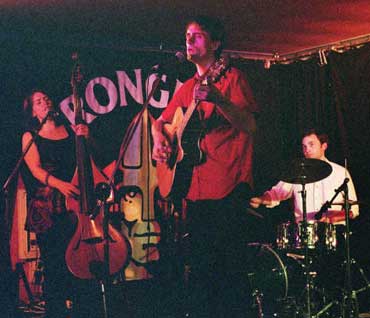 Sydney based Singer/Songwriter Brett Robin Wood is a folk-pop storyteller. Brett's live solo performance has been described as "Charlie Chaplin meets Leonard Cohen" – with spontaneity & humour Brett reveals the hidden ways of the heart and the intricate maze of the mind, beautifully capturing the experience of being human. He has recently released his new studio album, Likely Stories.
He has recently released his new studio album, Likely Stories (also featuring Liz Frencham), which includes tributes to the humble cup of tea, ruminations on the fate of lost umbrellas and other reflections on urban life.
Something to think about... and a good laugh too
Brett's a regular at Sydney venues including The Side-on Café, Cabaret Voltaire, the Cat and Fiddle, the Harp Irish Pub, the Sandringham & the Vanguard. He's got a couple of folk festivals under his belt [Nannup, WA & the Mount Beauty Music Muster VIC]. In 2004/5 Brett produced "Urban Folk Bliss", a monthly residency at the Side-on café in Sydney, where he shared some wonderful 'unplugged' evenings with quality folk such as Liz Frencham, Jodie Martin, Kat Frankie, Fred Smith and Jackie Bristow.
Brett's show is a little bit Martin Pearson, a little bit Damon Davies. Brett Robin Wood's catchy tunes gently land in your psyche, leaving you smiling in celebration of what it means to be human.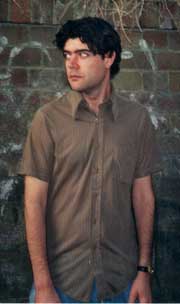 plus two support acts: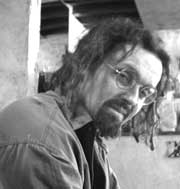 Michael Olliffe has been playing music since the age of seven after being inspired to take up playing piano by the Peanuts character Schroeder. Michael is a confident songwriter and performer seeking to combine ambition with integrity and passion crossing many styles from rock to pop, ballads, punk, the avant-garde, electronic and acoustic-based material. Visit his web site.
Huw Luscombe is a 39 year old poet from Glebe who writes about the disconnectedness of the modern world and how much he hates the Television. He was once "seeing a Psychiatrist" but after about a year they decided to get married.
"Luscombe Poetry has "Little insights and magical images that distract verse from simply forging ahead, making declarations or working things out. understanding less, revealing more" - Les Murray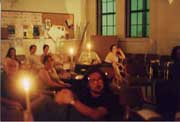 Eight O'Clock Sharp
The Cafechurch Space
Corner of St Johns Rd and Colbourne Ave, Glebe.
Just a short walk from Glebe Pt Rd, (bus routes 370, 431-433). Tickets: $14/$10*. Free coffee and tea. BYO and smoke-free. Doors open 7:30pm. The Cafechurch Space has already established its reputation as a fine acoustic music venue. It is set to host more folk events in 2005. It is an intimate, candle-lit, concert setting where the performance is the focus.
(*Rate for NSW Folk Federation members and other concession holders)
For more info, contact eos@cafechurch.org.au