Jez Lowe at The Harp

8pm, Saturday 4th March 2006
By Margaret Walters
Posted Monday, February 20, 2006
The Harp
900 Princes Highway, Tempe
Phone: (02) 9559 6300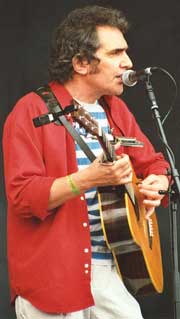 Jez is a remarkable song-smith using wit, warmth, sensitivity, and keen perception, to paint colourful portraits of ordinary people with ordinary lives who may be specific to Northeast England, but through Jez's eyes and verse become universal characters. Best known for his songs describing the mining culture, society and people of his native country, is a busy performer in high demand, with annual tours to the United States and Canada and frequent tours to Australia and New Zealand. Jez is joined by The Bad Pennies: fiddle player and singer Kate Bramley, multi-instrumentalist Andy May on pipes, piano, accordion and whistle, and newcomer Sean Taylor on bass and percussion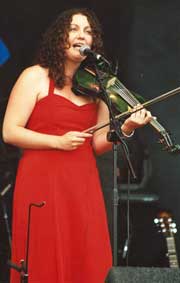 Jez is currently on an "Around the world in 40 days" tour with The Bad Pennies. All Australian dates are at the New South Folk web site.
Recently Jez has been writing about 20 brand new songs for a RADIO BALLADS series, which begins broadcast on BBC Radio 2 late Feb. There are over 60 songs by various writers also included in the 6 shows. Jez is involved in all but one of the programmes, as singer, writer and musician. As well as Jez himself, his songs will be handled by a variety of vocalists, including Bob Fox and Chris While.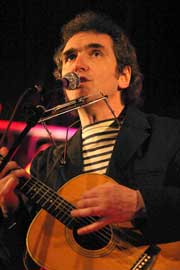 Jez Lowe has re-released his 1995 album – Tenterhooks (12 tracks) – arguably one of his very best - with a generous segment from the long unavailable 1994 Banners recording (6 tracks). The CD is titled Tenterhooks – the art edition.
The recording prior to that is Doolalley Throughout this superbly realised album, a basic humanity and wisdom (oh, and modesty too) shine through and these are cogent statements that will stand the test of time. Whether humorous, (Vikings) trenchant, (Bloodstained) affectionate, (Sugar Water Sunday) or stigmatic (Keep Them Bairns Away) these delicately-handled but straightforward songs never mask feeling with irony.
From a review on BBC Radio Folk