October 05 Radio Programs
A guide to October's Focus on Folk radio programs
By Paul Jackson
Posted Thursday, September 15, 2005
Saturday 1st October, 2005
150th Anniversary of Steam Railways in Australia - prepared and presented by Paul Jackson. All performers in today's show can be heard around Sydney's live music venues.
Saturday 8th October, 2005
Love songs through the ages - prepared and presented by John Milce. The folk tradition is replete with songs of love; requited, unrequited, and everything in between. Today's program will feature a broad selection from the 17th to the 21st centuries.
Saturday 15th October, 2005
Folk music comes in many forms - prepared and presented by Kate Delaney. A variety of today's folk.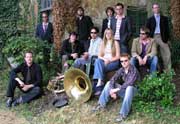 Saturday 22nd October, 2005
The Best of the Rest - prepared and presented by John Penhallow. Tonight's program features a selection of modern and traditional folk songs and tunes released this year from artists like Martin Simpson, Bellowhead and Eddie Reader.