November 05 Radio Programs
A guide to November's Focus on Folk radio programs
By Paul Jackson
Posted Saturday, October 22, 2005
Saturday 5th November, 2005
Music at the Creek - prepared and presented by Greg Bull. In today's program we feature artists who will be performing at the Braidwood Folk Festival, which takes place at Majors Creek next weekend.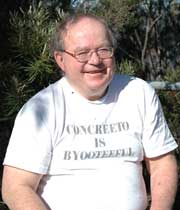 Saturday 12th November, 2005
Remembrance - prepared and presented by Patricia Early. Songs from the wars of the past century and some remembrances of our departed Folkies.
Saturday 19th November, 2005
Folk music comes in many forms - prepared and presented by Carole Garland. Tonight's tracks are from performers who may not always be the 'stars' but who are consistently the performers who connect most with the audience during festivals and folk club performances.
Saturday 26th November, 2005
Traditional music - contemporary artists - prepared and presented by John Milce. There is a new crop of young performers offering fresh interpretations of English traditional music. To-days program will feature some of this material.