August 05 Radio Programs
A guide to August's Focus on Folk radio programs
By Paul Jackson
Posted Sunday, July 24, 2005
Saturday 6th August, 2005
Hiroshima - 60th Anniversary - prepared and presented by John Milce. 60 years ago to-day an atomic bomb was dropped on Hiroshima. To commemorate this event, to-days program is dedicated to anti war songs.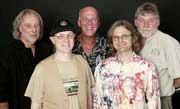 Saturday 13th August, 2005
It's Folk Festival time in the UK - prepared and presented by John Penhallow. Today's programme features a selection of live in concert performances from Fairport Convention, Richard Thompson, The Albion Band, Chris While + Julie Matthews and Show of Hands.
Saturday 20th August, 2005
From Rivers to Rogues - prepared and presented by Patricia Early. The Irish have some lovely songs about their rivers and some humorous songs about their rogues.
Saturday 27th August, 2005
As I Roved Out - prepared and presented by Carol Garland. Carole Garland presents folk material that celebrates going on journeys, and the sometimes awful results thereof.