39th Annual Uranquinty Folk Festival

2nd-5th October 2009 (Labour Day Wkd)
By Alan Hunter
Posted Friday, June 26, 2009
Traditional & contemporary folk, blues, celtic, bluegrass & reggae
• concerts
• workshops
• pub & campfire sessions
• dances
• poetry
• choir
• Kids Festival with workshops, activities, performances, Poetry Competition and Youth Concert.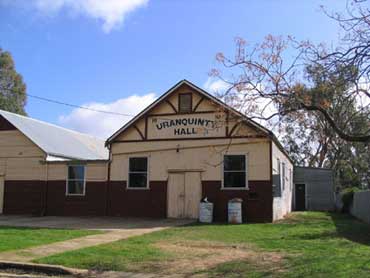 Quinty is a small inclusive folk festival that encourages participation, whether its flying a kite on the oval, coffee with friends at the bakery, dinner concerts at the hall followed by a night of bush dancing, great campfire sessions that usually go into the wee hours, learn something musical at one of the many workshops, be a star for 15 minutes at a blackboard concert, or sit back and enjoy yourself at the concerts, and for the early birds poets breakfast.
Artists
Phil Garland (NZ) - Allan Johnston (Scot) Peter Hawkes -Kobya (Moz) -The Lurkers Stiff Gins - Spirit of the Glen -Peter Hicks Luke R Davies – Helen Begley –Braemar and there's heaps more
Tickets
Weekend: $45 ($40 conc.)
Day: $30
Concerts & Dances: $12
Kids & camping free!
12kms south of Wagga Wagga on the Olympic Highway
More info: (02) 6029 2156 or visit our web site.