The Turning Wave Festival

17th-21st September 2008
By Pam Merrigan
Posted Friday, August 1, 2008
One mighty weekend! One brilliant Festival!
There's still time to grab a bargan and purchase your Turning Wave "Early Bird" Ticket. The Festival is offering an absolutely brilliant line-up of performers and a stunning programme that includes three concert stages packed with music, song and dance events, master classes, demonstrations, workshops & sessions, theatre, a Celtic Market Place with outdoor marquee performances, street smarts, a busking competition and a variety of other entertainment. For fives days the festival will showcase some of the coutry's most celebrated musicians, bands, singer/songwriters, poets, storytellers, raconteurs and dance troupes in an exciting and diverse programme.
$60 buys a world of entertainment
Early-bird tickets will be on sale till the close of business on 29th August and you're all very welcome to take advantage of this great saving. At $60 (early-bird price) the weekend ticket buys you a world of entertainment and gets you into every event from 5pm Friday 19th to 5pm Sunday 21st Sept. And it's not just the entertainment you're sure to love. The Turning Wave committee has made family a priority for this year's festival. Bring the young festival goers to Saturday's Kidzone at St John's to experience everything from puppets to a family bush dance and special " 4 kidz" shows by some of the festival's top performers such as Mike Jackson and Geoffrey W Graham.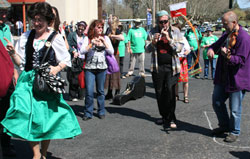 Concerts and festival events take place in a number of venues throughout the town and the festival is already renowned for providing festival-goers the opportunity to enjoy performances in quiet, friendly and intimate settings. We're confident 2008 will deliver an event with all the ingredients to inspire, inform and entertain you.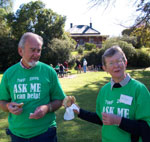 Whether you're a music fanatic or simply want to have a good time in Gundagai the Turning Wave has it on offer, catering for all tastes, and there's an opportunity for everyone to participate with community music ensembles, blackboard concerts and, watch out for the street music, sessions and busking competition.
Join us! Five fabulous days in September. For all the latest News & Information Visit our Website