The Turning Wave Festival - Gundagai

12th-16th September 2007
By Pam Merrigan
Posted Saturday, August 4, 2007
A World of Entertainment
A hundred thousand welcomes.
Just a comfortable 4 hours drive from Sydney down the Hume Highway Gundagai, with its character buildings and historic street-scape will host the 2nd Annual Turning Wave festival of Irish & Australian Music and the Related Arts, a brilliant five days of music, song, dance and spoken word. And we bid you all "Céad Míle Fáilte" – a hundred thousand welcomes.
With over 250 performers and 60 acts in over 200 events, the festival caters for music & poetry enthusiasts, families who wish to enjoy a safe festival, and those who just come to soak up the atmosphere, the friendliness and the free outdoor music. We have a wonderful program of events and activities and, while the festival starts on the Wednesday, the main event takes place from 5pm Friday 14th till 5pm Sunday 16th September.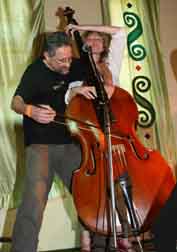 Our Irish & Australian theme embraces both the contemporary and the traditional and the influences might range from blues and jazz with a Celtic vibe to the very pure drop of the tradition to a more eclectic interpretation. After just its first year the Wave has made a reputation for delivering some of the top folk, trad and contempoary acts from around the country and, providing the opportunity for you to enjoy their performances in a friendly and intimate setting.
The Turning Wave is also a Festival where you can make music. With 3 community ensembles in which to participate, over 7 individual blackboard events, a Festival Folk Club on Friday and Saturday evenings, and a Singers' Club there's plenty of opportunity to get involved or find a stage to share your music. Or you can take to the streets in our buskers competition with cash prizes and a chance to win recording studio time and a spot on the Sunday Crossing Borders Concert.

And there's so much more! Visit the Festival Website to check out our fabulous line-up of performers and for a taste of what's on offer. There's also helpful information about camping and other accommodation and people you can contact who will help with all your festival needs. And the full program is available for a sneak peek or to download.
Early-bird ticket sales close 31st Aug. but even if you miss this great discount @ $75 for the full price ticket you'll still be getting great value. Contact John or Fiona on 02 6944 2200 to purchase tickets or you can send an email.
Catch the Wave September 12th - 16th.
See you there.
Photos by Trina Thomson