The Turning Wave Festival Coming Soon!

13-17th September 2006
By Pam Merrigan
Posted Wednesday, August 23, 2006
Only a few weeks to go till our inaugural Turning Wave Festival and it's an exciting prospect to think it's almost here. EARLY BIRD Tickets are on sale NOW until till COB September 1st with generous discounts.
$60 Adult & $20 Youth (12yrs - under 18yrs with paying adult)
Gate price: $75 Adult & Youth $25 (12-under 18yrs with paying adult)
If you pre-purchase your festival ticket you will also save on Master Class fees. Master classes are being offered in fiddle and accordion with Enda Ó Catháin and Conor Keane. They will take place for three hours each day (Wed, Thurs & Fri) with an afternoon forum and the opportunity to play in session each evening.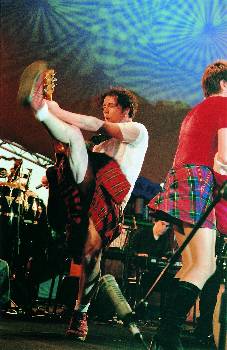 We have over 250 performers, in over 60 acts to deliver a wonderful program of events which includes Kick into the Festival with the BordererS, Céad mile fáilte - Welcome Concert, the Big Bush Orchestra with Trish Barker, a Gathering of Harps, Cherish the Ladies Concert, Ratbags & Romantics with Geoffrey W Graham, Historic Bridges Costume Ball, Ceili mór, Spirit of Gundagai Street Parade and Concert, Busking Competition, Poets' Breakfasts, a Hurling Match and more! more! more! You can get a pdf version of the program from the website and also download performer profiles and workshop information. Get it NOW!
Big Bush Orchestra Sets now on Web: If you're coming along to the Turning Wave to participate in the Big Bush Orchestra you can now download the tune sets from our website. Organised by Trish Barker this will be one of our big community events. Play all the tunes or just the ones you can manage. It doesn't matter! The aim is to bring musicians together to make music and have some fun and you'll also have an opportunity to perform as part of the festival program. Other community events are our Festival Choir with Miguel Heatwole and Bob Hodgson's Harmonica Band.
"The Turning Wave" is taken from a poem by Colleen Z Burke and an anthology of the same name compiled and edited by Colleen and Vincent Woods, and is used with the kind permission of the authors.