Sing Dubbo

Sat 5th and Sun 6th May 2012
By Christina Mimmocchi
Posted Saturday, January 14, 2012
How did you spend your weekend?
… by the mighty Macquarie River?
… making music with old friends and new?
… steeped in Dubbo's history and culture?
If you want to answer "YES",
join us for the "Sing Dubbo" weekend.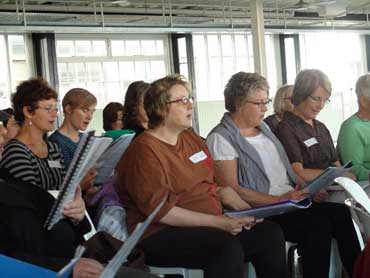 Sing Dubbo is a weekend of singing workshops, a Saturday evening singing session and other musical activities, culminating in a performance on Sunday afternoon in Dubbo's Holy Trinity Church. The music will include new songs and arrangements, and the odd familiar tune, all based on the rich history and culture of Dubbo and surrounds. Musical Director Christina Mimmocchi (Sing Cockatoo, Folk Fellow 2009, Blindman's Holiday) will be ably assisted by a team of experienced choir directors Kate Swadling and Rowen Fox.
If you're coming from out of Dubbo, or if you're a local and want to immerse yourself in the weekend, come and stay at the Big 4 Dubbo Parklands where the weekend will be based.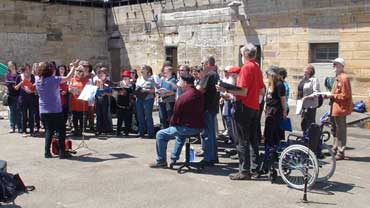 We can promise you lots of fun and heaps of singing.
Characters from Dubbo's rich history include Wiradjuri warriors, explorers, squatters, farmers, zoo critters, artists and artisans, sopranos, altos, tenors and basses. There's a place for you!!
Contact for more info and registration forms:
Di Clifford (Dubbo local) (02) 6882 0498
Christina Mimmocchi (0410) 682 061
Workshops are suitable for all ages and levels of singing experience.