Turning Wave Early Birds

Early Bird Tickets & Pre-Weekend Master Class and Workshop Series on Sale from Mon 2 June '08
By Pam Merrigan
Posted Thursday, May 8, 2008
DON'T MISS THE WAVE! Reserve your place.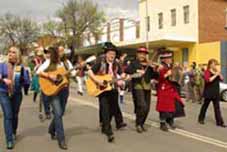 The Turning Wave Festival Wed 17th to Sun 21st Sept (main event starts 5pm Fri 19th Sept) caters for all tastes from music fanatics to families wishing to enjoy a safe festival, to those who come to soak up the atmosphere and the friendliness, from "the pure drop" to Celtic inspired folk, blues, country and world, we've got it covered and you can expect an innovative and inclusive event of the highest calibre, from both a performance art and a participatory perspective. For five days in September historic Gundagai, NSW will come alive in a riot of colour and sound, and you are all very welcome. A limited number of early-bird tickets will be on sale from Mon 2 June till COB Fri 29 August '08, or until sold out.
Over 60 Acts & 300 Performers
ONE MIGHTY WEEKEND!
This year the festival program includes over 60 acts and 300 performers in five days and four nights of music, culture and "craic"! (By the way, that's Irish for a ripper of a time.) 2008 sees another brilliant line-up with a number of high profile events and concerts taking place throughout the weekend. Marcia and Damian Howard and the Ploughboys, in addition to concert appearances will present their new show From Waterholes to Holy Wells, which they are touring overseas in July. Keith Preston and Tony Doyle are developing a puppet performance, the Celtica Puppet Project especially for the festival which will amaze and entertain you, and there will be two performances of Siamsa Eire a fast paced Irish style variety show hosted by the inimitable Gerry Faulkner. We don't want to give away all our surprises yet but a sneak peek at our 2008 line-up includes Tulca Mόr, Aniar, FrenchamSmith, Chris Duncan & Catherine Strutt, Ami Williamson, Chris Aronsten, Karen Lynne & Acoustic Shock and The Rounders, Sydney's hottest new trad. band.
YOU can be part of the act!
Participation a special feature: Once again we are encouraging people to get involved in the music through our community ensembles program. The Big Bush Orchestra will once again be led by Sydney fiddler Trish Barker. Earlier this year Trish conducted the Celtic Fiddle Rally at the National Folk Festival in Canberra and for our Big Bush Orchestra she has planned a great program of music. As in previous years the music is available to download from the website so that you can practise and prepare prior to the Festival. There will be two rehearsals over the Festival weekend, culminating in a public performance on the Carberry Park Stage on Sunday 21st September. New for 2008 is the Great Whistle Walk, and you can also get involved in the Festival Choir. Visit the website for more details regarding those.
Guest Musicians from IRELAND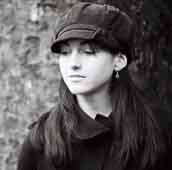 Our featured musicians from Ireland this year are Eithne Ní Chatháin (fiddle/voice/sean-nós dancer) and Caoimhín Ó Raghallaigh (fiddle/Uillean pipes/wooden flute). They will be involved in concerts and recitals and also present a Master Class and Workshop Series in wooden flute, uilleann pipes, singing and sean-nós dancing. Both have grown up with, and still draw on, the 'pure drop' in Irish traditional music.
Concerts and festival events take place in a number of venues throughout the town and the festival is already renowned for providing festival-goers the opportunity to enjoy performances in quiet, friendly and intimate settings. We're confident 2008 will deliver an event with all the ingredients to inspire, inform and entertain you.
Don't miss out. Book early and, for a full list of performers and all the latest news visit the festival website or email us.