Wheelers & Dealers CD Launch

3pm, Sunday 8th July, 2007
By Chris Wheeler
Posted Tuesday, June 5, 2007
The Harp Hotel
900 Princes Highway, Tempe
(02) 9559 6300
$10/$8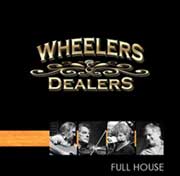 You are invited to join Wheelers and Dealers for the launch of our second album, 'Full House' at the Harp Hotel in Tempe next Sunday.
Wheelers and Dealers is a Celtic Australian band with unusual musical credentials. Our fiddle player Mike Kerin has just completed an Australia-wide tour with Richard Tognetti and the Australian Chamber Orchestra as a soloist. Earlier this year Mike won the Victorian Country Music Association's instrumental award and was nominated for a Golden Guitar at Tamworth Music Festival. Other band members are Ged Corben, guitar and mandolin, Michael Vidale, bass, and joining us for the happy occasion, as she has done several times before, Tinker Duffy on accordion and harmony vocals.
'Music like this is ... important'
We have a big challenge coming up in August, when we will be both supporting and providing the backing band for the legendary guitarist Albert Lee (Emmylou Harris' Hot Band, Eric Clapton, amongst many others), who is in Australia for his first tour since 1988. Check out Albert's website.
Meanwhile back at the CD launch, kids are welcome, the concert venue at the Harp is a no-smoking environment and in mid-winter it should be nice and cosy on a Sunday afternoon. Bring your cousins!
Info on the band is available on our website. Any queries about the cd launch, email me or phone (0408) 276 436.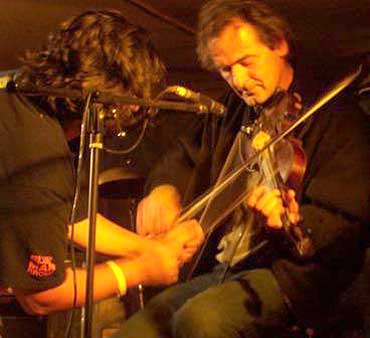 Here's what people are saying about the cd:
'Skilful acoustic instrumental delivery from some of Australia's top ranked players supports the voice of Chris Wheeler, a voice that matches the warmth and clarity of your end of day malt. That's how I recommend listening to this work, malt in hand, feet up, a 'Don't Disturb' sign on the door of wherever you take your intravenous music, read the bank statement with its two dollar forty error then throw it on the floor. It's not important. Music like this is.' Geoff Green, Springboard Media Editor, UK
'Full House is a wonderfully produced CD. Once you start listening to it, you keep putting it in the CD player again and again. Time and time again you'll hear the fine nuances in the playing and voices'. Henk de Weerd, FolkTrax web catalogue
'There are some neat blue grass and Appalachian influences on show, just accenting and highlighting the strengths of the current band. Christine's voice is mature and expressive. If they remind me of Colcannon, my personal benchmark for really great traditional music, it's for all the right reasons, strong singing, a range of styles held gently and treated with real respect.' Ewart Shaw, Adelaide Advertiser