Foghorn Stringband Special Concert!!!

7.45pm, Saturday 2 November 2013
By Judy Jones
Posted Tuesday, July 16, 2013
Come along and enjoy a wonderful evening of authentic acoustic Appalachian stringband and bluegrass music, featuring
FOGHORN STRINGBAND (USA)
Hunter & Suzy Owens
The Three Jimmies
Annandale Neighbourhood Centre
79 Johnston St, Annandale
$20 / $10 BTCMSA members. Kids Free.
Foghorn Stringband
In 2012, Nadine Landry and Sammy Lind toured Australia and won our hearts with their singing, playing and warmth. Now they are returning with their band, Foghorn Stringband, and we are delighted that they will be joining us at Annandale for a special concert on Saturday 2nd November 2013.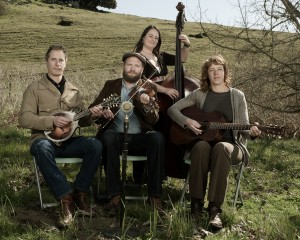 "Portland's Foghorn String Band stands at the top of today's vibrant old-time music revival.... Each album finds them deeper into the tradition, more familiar with the rich resources of roots music, and more focused, but still propelled by that undercurrent of punk energy." - Art Menius
The band is Caleb Klauder, vocals & mandolin, Sammy Lind, fiddle and vocals, Nadine Landry, vocals and bass, and Reeb Willems, vocals and guitar. The music is energetic and authentic American roots music: old-time, bluegrass, Cajun, country. foghornstringband.com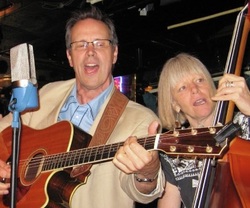 Hunter & Suzy Owens
Hunter & Suzy Owens are well-known for their beautiful singing, wonderful songwriting and instrumental skills. Hunter, originally from Charlottesville, Virginia, plays mandolin and guitar, Suzy plays bass and fiddle, both sing lead and harmony. Their performances are based mostly on an original repertoire, songs which speak to your heart and tell stories that are hard to forget hunterandsuzyowens.com
Three Jimmies
The Three Jimmies - Jimmy Rush, Nigel Lever and Quentin Fraser - are all top pickers, playing a variety of instruments, but mainly featuring their skills on guitar in this lineup. Jimmy Rush has won a place in flatpicking guitar many times at the Tamworth bluegrass instrumental championships, and Quentin recently won second place in dobro at the 78th Galax Fiddlers Convention in Virginia in 2013.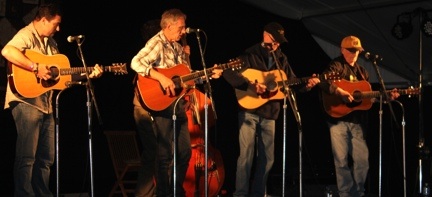 Safety In Numbers Workshop
The night will kick off at 6.30pm with the customary 'Safety In Numbers' workshop, where people at all levels of ability learn a few bluegrass songs together. The songs include instrumental backing and breaks, but you don't have to play an instrument to be part of the SINners group. The SINners will get the concert rolling at 7.45pm. All are welcome!
Tea, coffee, soft drinks and delectable goodies available.
For more information, call Rod Jones on (02) 9456 1090, check out our website or visit us on Facebook.
The continuing assistance of Leichhardt Council through 2013 is gratefully acknowledged.