Colum Sands (Ireland) at Sutherland Acoustic

7.30pm, Thursday 10th March 2016
By Jenny Watson
Posted Monday, January 12, 2015
A member of the internationally renowned Sands Family from County Down, Colum established his reputation as a songwriter with the release of his first solo album, Unapproved Road in 1981. Songs like 'Whatever you say, say nothing', and 'Almost Every Circumstance' were soon in the repertoire of artists from Billy Connolly to Maddy Prior and June Tabor.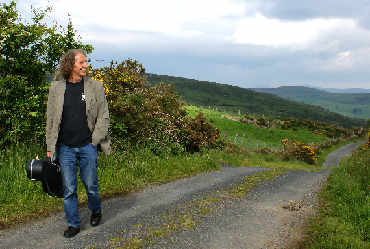 Colum has performed in over thirty countries around globe, confirming the universal appeal for the songs and stories with which he observes the minute and often humorous details of life. On his travels around the world he discovered that many of his songs had arrived before him, carried by other singers and in recordings by fellow performers like Andy Irvine, Tommy Makem and Liam Clancy, Roy Bailey, Mick Hanley, Gerard van Maasakkers, Rosemary Woods, Iain McIntosh and Enda Kenny.
'The March Ditch', Colum's second album, inspired a special BBC television documentary and songs like The Man with the Cap and Looking For The Loan Of A Spade confirmed his unique ability to observe locally and appeal universally. Eight albums later, in 2012, Colum took time out from touring and his weekly radio programme to write and record his ninth album, 'Turn the Corner'.
Visit Colum's web site.
See you at the Tradies (meals very reasonable too so you can make a whole night of it)

Yours in music,
Jenny Watson for Sutherland Acoustic
Sutherland District Trade Union Club - The Tradies
Cnr Manchester Road North & The Kingsway, Gymea
Entry: $15 (pensioners $10) (Kids <12 free!)
Contact: Maeve (02) 9520 5628 or Jenny on (0403) 673 317.
Session Night - Don't forget our monthly session nights (4th Thursday) at 7.30pm. Come along to a friendly jam with warm supportive fellow jammers. All welcome. All encouragement given no pressure. Any style or standard is fine. No charge. Held at same place as above but usually in the Plush room which is downstairs past the coffee shop. For more info call (02) 9520 6180.
Tune Session Night - 4th Friday of the month from 7.30pm. (Kaimea Room). Stringed and other instruments welcome. Ability to play with others and have basic chord knowledge. Welcome to listen. Phone Ian Knight (0438) 830 374.