Celtic Night at Sutherland Acoustic

7.30pm, Thursday 13th March 2014
By Jenny Watson
Posted Thursday, February 6, 2014
Hi all!
As is our tradition March always becomes Celtic month for our concerts. We have had some outstanding nights in the past and I know there is a real love of Celtic music amongst our community. I love it's lively and spirited style and beautiful sometimes haunting ballads, the jigs and reels (sorry still don't know the difference anyone more enlightened could let me know!) always get my feet tapping if not my whole body and I have to get up and dance! Hope you might join me.
This month I have organised Cameron Mather (singer and multi instrumentalist-guitar, banjo, bouzouki and mandolin) and Ben Scott (singer/songwriter)who are both extremely talented Australian born artists but their choice of music has become steeped in Irish traditions. Both artists have spent time in Ireland to hone their specialized skills.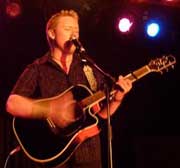 Cameron Mather has been performing for Sutherland Acoustic since he was a youngster and the new kid on the block. He has since very much matured and grown in confidence and skill and is now second to none. In Dec 2012 he released his much acclaimed first album 'More than I Can Say'. He is a multi award winning performer winning in 2013 the 'Peter J. Daly Award for Outstanding Performer of Celtic Music' at NFF and his arrangement on tenor banjo of 'Bill Galvin's Reel' won him the 2013 'Young Traditions Arrangement Award' at the Illawara FF. Cameron has performed with many well known artists including supporting Finbar Furey on his Australian tour and other well known Irish artists and performed at most of the major festivals in NSW including the prestigious National Folk Festival. He is a member of two leading Irish Ceilidh bands-The Coast Ceilidh Band and Jimmy Mullarkey Ceili Band.
Ben Scott - After working on a number of projects such as the Australian Folk/Bluegrass outfit Lime and Steel, a stint among the hirsuit ranks of the Spooky Men's Chorale and two years behind a pint of Guinness in Dublin, Ben Scott returns to the folk circuit with a batch of new songs penned over the last few years.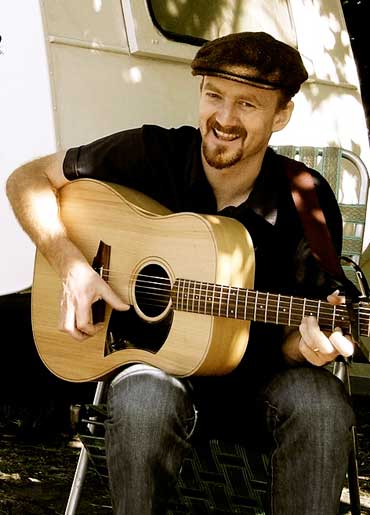 Ben writes songs about the experience of Australian life – its contradictions and tensions, and unique qualities.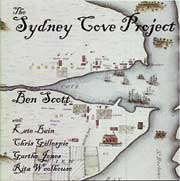 The Sydney Cove Project Retelling tales from first fleet Australia through letters and journals from the time, his album asked questions about Sydney's foundation that challenged and resonated with Sydneysiders. This interest in original Australian folk led to his collaboration with Paddy Connor and Ian Morrison in the formation of Lime and Steeland the release of Tales of Love, Murder and Trains
His new material, much of it written while living in Dublin, ranges from the lives of colonial women, to drought, transportation and emigration, to the travails of life in the public service. Ben's fingerpicked guitar, and stories are told with Irish, bluegrass and classical sounds.
All in all it is going to be a night you shouldn't miss. Hope you can find room in your diary for this amazing concert.
See you at the Tradies (meals very reasonable too so you can make a whole night of it)
Yours in music,
Jenny Watson for Sutherland Acoustic
PS. Session night on this Thursday 27th February 7.30pm at the Tradies. All welcome bring a song, poem or instrumental piece or just listen. No charge. Ask at reception where we will be holding it as rooms can change without notice
PPS: New daytime session starting next Wednesday 5th March at RSL Cronulla overlooking South Cronulla beach 2pm for 2.30pm in the cafe which is downstairs from the main entrance. All welcome play song, sing or recite poetry or listen and join in chorus. More info ph Brian Dunnett 96689051
Also Margaret Bradford has her house concert this Sunday 2nd March 2pm it will be her last of the year so don't miss out. It will feature Alistair Scottish singer and squeezebox player ph 95206180
Sutherland District Trade Union Club - The Tradies
Cnr Manchester Road North & The Kingsway, Gymea
Entry: $15 (pensioners $10) (Kids <12 free!)
Contact: Maeve (02) 9520 5628 or Jenny on (02) 9576 2301 after 6pm.
Session Night - Don't forget our monthly session nights (4th Thursday) at 7.30pm. Come along to a friendly jam with warm supportive fellow jammers. All welcome. All encouragement given no pressure. Any style or standard is fine. No charge. Held at same place as above but usually in the Plush room which is downstairs past the coffee shop. For more info call (02) 9520 6180.
Tune Session Night - 4th Friday of the month from 7.30pm. (Kaimea Room). Stringed and other instruments welcome. Ability to play with others and have basic chord knowledge. Welcome to listen. Phone Ian Knight (0438) 830 374.