Scott Cook (Canada) at Sutherland Acoustic

7.30pm, Thursday 12th February 2015
By Jenny Watson
Posted Thursday, January 8, 2015
Alberta, Canada's prairie balladeer Scott Cook is a tirelessly traveling DIY songwriter with heart forever on sleeve. Road-worn, painfully honest, and deeply human, his straight-talking tunes weave together folk, roots, blues, soul and country with spacious fingerstyle guitar and clawhammer banjo arrangements.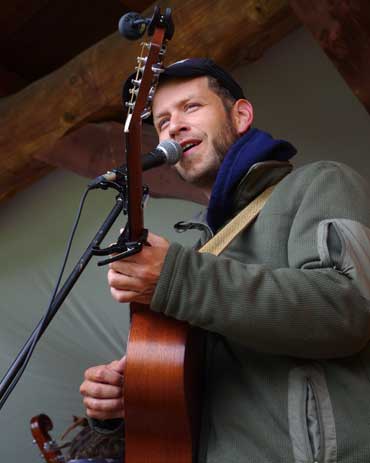 Cook has been making a full-time living at music since 2007, touring extensively across Canada, the US, Europe, Asia and Australia, and is currently on tour in support of his fourth release, One More Time Around, which Canada's premier roots music magazine Penguin Eggs calls "as much a manifesto as a musical work," teeming with "wry observations and hopeful life lessons." Its opening track "Pass It Along" won the Folk and Acoustic category in the 2013 UK Songwriting Contest, with UK magazine Maverick Country naming him "one of Canada's most inspiring and imaginative storytellers".
Fellow Canadian songwriter and three-time Juno winner David Francey sums it up:
"Scott Cook has distilled his travels down into songs powered by a sharp eye for imagery, a healthy dose of humanity, and that unforgettable voice, that at the same time intones the rigors of the road and the most comfortable couch you have ever slept on."

More info, music, photos and hobo travelogue can be found on Scott's
web site
.
See you at the Tradies (meals very reasonable too so you can make a whole night of it)
Yours in music,
Jenny Watson for Sutherland Acoustic
Sutherland District Trade Union Club - The Tradies
Cnr Manchester Road North & The Kingsway, Gymea
Entry: $15 (pensioners $10) (Kids <12 free!)
Contact: Maeve (02) 9520 5628 or Jenny on (0403) 673 317.
Session Night - Don't forget our monthly session nights (4th Thursday) at 7.30pm. Come along to a friendly jam with warm supportive fellow jammers. All welcome. All encouragement given no pressure. Any style or standard is fine. No charge. Held at same place as above but usually in the Plush room which is downstairs past the coffee shop. For more info call (02) 9520 6180.
Tune Session Night - 4th Friday of the month from 7.30pm. (Kaimea Room). Stringed and other instruments welcome. Ability to play with others and have basic chord knowledge. Welcome to listen. Phone Ian Knight (0438) 830 374.